The University of Wisconsin-Madison's Center for Social Justice already had a crush on a Marxist activist who met Venezuela's Hugo Chávez and his successor, Nicolás Maduro, and lauded their dictatorship.
Now it has pledged its eternal devotion to Tariq Ali, who praised Chávez for distributing his favorite book rather than food to his starving people.
Ali is the recipient of the center's 2017 Lifetime Contribution to Critical Scholarship Award, which recognizes his "distinguished and extensive record of scholarly achievement in the critical tradition of social thought."
In an article for the free-market MacIver Institute, UW-Green Bay student Jessica Murphy highlights the vast expanse between Ali's benevolent view of socialist Venezuela and the experience on the ground.
Venezuelan student activist Jorge A. Jraissati tells Murphy in an interview that more than 80 student activists have been killed, and another 3,000 incarcerated, in the past three months:
Venezuela is a country sunk in misery, a country in which our people don't have access to food, medicines, and jobs. Venezuela is a country with no freedom of speech, no human rights, and no opportunities to provide for our families with minimum wage less than $50 per month. A country divided, collapsed, and injured thanks to Hugo Chávez and Nicolás Maduro. …

The people Chávez promised to help are the most exposed to the violence and hunger my country is living at the moment.
Jraissati and Students for Liberty are running a fundraiser for his fellow activists.
Scholar Ali spoke at a Center for Social Justice event 10 years ago, and he's returning in October, Murphy writes:
He was also invited to speak at the inaugural Hugo Chávez Memorial Lecture in 2014 hosted by the Venezuela Solidarity Campaign, an organization that supports the tyrannical reigns of Chávez and Maduro. …

Ali often calls out western media for portraying the situation in Venezuela as a transition to a communist-style dictatorship, when it's clear this is exactly what's happening. …

Venezuela, with the world's largest oil reserves, once had potential to be the richest country in Latin America. … The country is spiraling out of control – people are rationing toothpaste and imprisoned protesters say they are forced to eat raw pasta mixed with human excrement. Apparently this is a socialist's paradise?
MORE: UW-Madison class teaches students to hate capitalism
Murphy (below) is incredulous that a research center at a public university is so enamored with a sycophant for a grossly illiberal government, but in fact Ali is only the latest scholar who worships Chávez to be honored by the center:
Maduro's own administration is revolting. Venezuela's attorney general Luisa Ortega Díaz, once loyal to the Maduro regime, is now one of his most outspoken critics. Speaking out in the name of justice and democracy has consequences in Venezuela – Díaz had her assets frozen and was banned from leaving the country last week.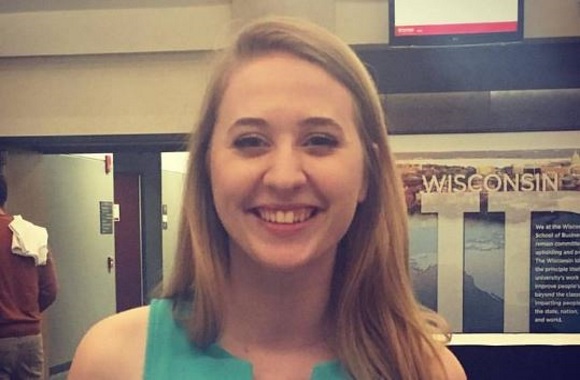 Expect Murphy to draw a backlash for highlighting UW's feting of a man who is willfully blind to the "egregious human rights violations, disintegration of democracy, and extreme poverty" caused by Venezuelan dictators.
After she exposed an explicitly anti-capitalist course at UW-Madison among others in her "Top Five Wasteful Classes in the UW System," Murphy was hit with personal attacks that called her inherently racist for being born in South Africa. One commenter said it was OK for him to "punch her in the face" because he grew up in "the barrio."
Read Murphy's post for the MacIver Institute and visit the fundraiser for student activists.
MORE: 'Punch her in the face' for questioning 'wasteful' classes
Like The College Fix on Facebook / Follow us on Twitter
IMAGE: Deatonphotos/Shutterstock