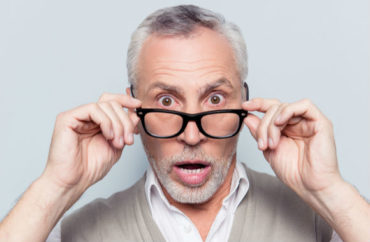 The University of Wisconsin-Madison soon will be removing a "male anatomy"-shaped sculpture as part of a renovation project slated to begin in February.
The 50-foot "Nails' Tales" obelisk is composed of footballs and was made in honor of sculptor Donald Lipski's football-playing roommate Eric "Nails" Nathan. Lipski is a 1970 UW-Madison alum who, according to The Badger-Herald, was "passionately involved" in the (Vietnam) anti-war movement. Given the "militaristic nature" of football, Lipski said that, when he was asked to do the sculpture many years later, it "had a note of irony right from the start."
Lipski chose the shape of the, er, piece based on historical context: "Ancient Egyptians frequently placed pairs of obelisks at the entrances of temples [and] ancient Romans would frequently steal obelisks and use them as trophies or symbols of conquest."
And he's fully aware of the phallic nature of the piece.
"What I got from [administrators] is […] they really wanted was something that projected strength, power, virility — things that are not surprising to be associated with football," Lipski said. "When they described what they wanted, they were all but making phallic gestures with their hands. They were, without saying it, saying that they wanted something phallic."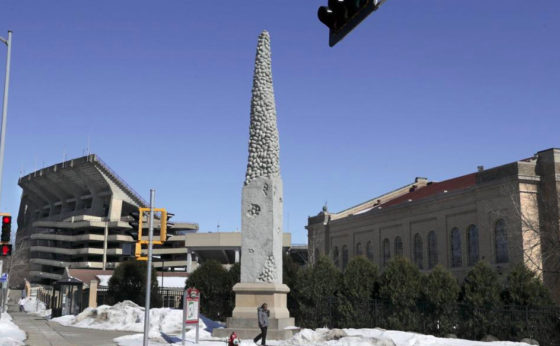 "Nails' Tales" is going into storage until a final decision is made on its relocation, according to the Wisconsin State Journal.
"We don't know what's going to happen with the sculpture," Gary Brown, director of campus planning and landscape architecture, said in March. "It could stay. It could go. It could be relocated."

University officials said the last option, relocation, is now on the table.

UW-Madison is committed to working with Lipski and campus stakeholders to find a new spot for the sculpture in the next year, Lucas said. The UW-Madison Campus Art Advisory Committee and the Wisconsin Arts Board have been involved in the discussion around the statue's removal and relocation. Both groups are in general agreement that the artwork could be relocated with Lipskis' involvement.

Lipski said the Field House improvements will be "great" and he understands why the university wants to move the sculpture.
The obelisk has been a water cooler topic since its … erection. Many have criticized it and even called for its dismantlement.
Read the State Journal and Badger Herald articles.
MORE: Virginia Tech on the hunt for campus penis artists
MORE: 'Snow penis' erected during snowstorm reported as 'bias incident'
IMAGE: Roman Samborsky / Shutterstock.com, Twitter
Like The College Fix on Facebook / Follow us on Twitter