Says 'it's not a threat, it's a warning'
As rioters in Madison, Wisc., pulled down a statue of a noted abolitionist and a monument to women's suffrage on Tuesday night, they had a supporter in a University of Wisconsin-Madison Associate Professor of Gender and Women's Studies.
Professor Sami Schalk, who describes herself on Twitter as a "Sarcastic fat Black disabled queer femme," tweeted in support of the rioters throughout the night, even as a gay Democratic state senator was attacked for filming the unrest.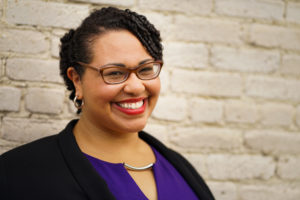 "For folks tsk-tsk-ing about statues coming down, let me say this: Those objects have no meaning other than as representations of the state for most young protesters," tweeted Schalk (pictured.) "Why should they give a fuck about a dead white dude abolitionist when our people are in cages?"
"Make real substantive long term change commitments or the uprisings will continue," continued Schalk. "So many people have so little to lose in the wake of the pandemic. Folks got time & anger & not much else to do with it but disrupt the fuck out of this city," she added.
Schalk punctuated her thread with a gif of rapper Cardi B, saying "It's not a threat, it's a warning."
After weeks of protests in Madison that have seen the State Capitol vandalized, stores damaged and looted, and streets painted with messages like "DEFUND POLICE," activists took aim at statues on Tuesday night.
In previous nights, the statues had been doused with paint; but now, mirroring rioters that have pulled down statues throughout America (including those of Ulysses S. Grant and Christopher Columbus), Madison's activists took aim at statues that have stood for over a century.
One of the statues was of Hans Christian Heg, an abolitionist who led an all-immigrant company to do battle against the Confederate army at the Battle of Chickamauga in 1863. Heg was shot and died of his injuries.
Nonetheless, his statue was pulled down, dragged through the streets of Madison, decapitated, and thrown into a nearby lake.
Also torn down was Forward, a statue paid for women and sculpted by a female sculptor Jean Pond Miner, which commemorated women's progress in Wisconsin. The original version of the statue was placed outside the State Capitol in 1895.
Schalk, however, remained unmoved, re-tweeting an old post of hers that repeatedly said "People over property." She punctuated her retweet with the hashtag #FuckYoStatues
"The uprising is back in full force in #MadisonWI," she tweeted.
Schalk also called for police to be removed from Madison's public high schools and for the police to be defunded. Earlier this year, she said white people do not get to decide what is or isn't racist.
In Madison, Schalk is perhaps best known as the professor who twerked onstage with rapper Lizzo in 2019. In a column for Vox, Schalk called her twerking "an act of political defiance."
MORE: U. Wisconsin-Madison prof: White people don't get to say 'what is & what is not racist'
IMAGE: Twitter.com/SJohnsonWPR
Like The College Fix on Facebook / Follow us on Twitter