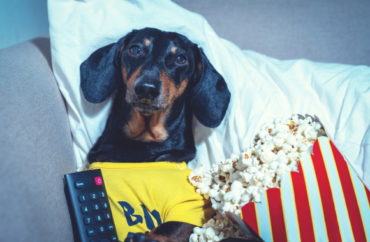 A new study by researchers at the University of Wisconsin-Madison is asking dog owners to answer a survey about what their dogs enjoy watching on television.
The study, headed up by Professor Freya Mowat of the School of Veterinary Medicine, is intended as a way to test eyesight in dogs, as well as measure how aging affects vision in both canines and humans.
"The goal is to figure out what content is universally most engaging for dogs," Mowat told Madison's Capital Times. "This screen-viewing questionnaire was born from a need to figure out a quick yet meaningful and sensitive way of testing vision in dogs."
Mowat also works in the School of Medicine's Department of Ophthalmology and Visual Sciences.
"We are interested to know how much dogs interact with screens (televisions, computer monitors, laptops, tablets or smartphones)," reads the survey Mowat is asking dog owners to complete.
"This is interesting because there are increasing numbers of dog 'TV channels' that promote engaging content for dogs, but very little understanding about how exciting those channels are for the dogs," the survey says. "In addition, we as researchers are interested to understand dog vision better, and in order to do that we need to find out how dogs interact with videos in the home, so we might consider how to test vision in dogs using videos!"
The study also presents four short videos for owners to show their dogs to see if they remain interested.
Does your dog snuggle with you on the couch to watch TV on the weekends? Tell us all about it in our #dog #citizenscience survey about dog TV watching! Theo the Bernese LOVES birds on the TV….https://t.co/p04kZA9iLP#weekend #DogsofTwittter #doglife pic.twitter.com/7mIT2pNWdF

— MowatLab (@MowatLab) March 26, 2022
"It's a fun thing to think about as a concept," Mowat told the paper. "What do our dogs watch when we watch TV? Are they watching it too? But it also tells us what we can do with that information in terms of developing health testing for our pets that's actually meaningful."
Mowat noted that because dogs age so quickly, it is easier to measure the effects of age on their vision.
"We're not just frivolously asking what dogs watch on TV," Mowat said. "It also has this deeper meaning for me and will have deeper implications for what we do in our research. There's a double benefit here."
Read the full article here.
MORE: Prof's 'interspecies intersectionality' theory: 'Bad' dogs face marginalization akin to racism
IMAGE: Masarik / Shutterstock
Like The College Fix on Facebook / Follow us on Twitter