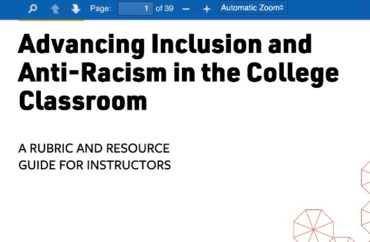 Guide 'focuses curriculum toward anti-colonialism'
Several instructors at UC Berkeley have adopted an "anti-racism" teaching guide to restructure large biology classes.
"Advancing Inclusion and Anti-Racism in the College Classroom: A rubric and resource guide for instructors" encourages college teachers to recognize their "implicit bias," adopt alternative grading policies, and "focus curriculum toward anti-colonialism," according to the paper's description. It is open-source and available to read in full.
The guide "aims to support instructors in developing anti-racist approaches to course design and teaching practices in the undergraduate and graduate setting," the description stated. Professors in Berkeley's Department of Environmental Science, Policy, and Management developed and offered the tool to their colleagues.
The College Fix reached out to Berkeley ESPM with questions about the guide's purpose and whether Berkeley departments and classes have adopted it for the spring 2023 semester.
"Several of the instructors from Bio1b (it is team taught) used the tool to come to consensus on some changes to the class," Berkeley ecology Professor Benjamin Blonder, who co-authored the paper, said in an email to The College Fix. "This happened during summer 2022. The fall 2022 and spring 2023 versions of the class have been following through on the agreed changes."
"There is currently no departmental plan to require all classes or instructors to use the tool, though all instructors have been made aware that it exists as a resource," Blonder said in an earlier email. "All instructors have the final choice over what [they present] and how they present material in their classroom."
"Several other departments have expressed interest in using the tool, and we are currently seeking funding to support its use by providing space for another summer learning community for instructors to get started."
Ten large classes revamped with 'antiracist' tool last summer
"Ten large-enrollment Berkeley classes were intensively workshopped during summer 2022 through the use of the recently-developed guide, 'Advancing Inclusion and Anti-Racism in the College Classroom: A rubric and resource guide for instructors,'" according to a September report from ESPM.
Classes that used the rubric last summer included Intro to Bio, Evolution/Ecology/Plant Diversity, Nutrition in the Community, and Climate Justice, the report stated.
Course modifications included anti-racist training for graduate instructors, instructor "positionality statements," more accessible office hours and "inclusion of decolonial perspectives," according to the report.
Suggested course modifications included antiracist training for graduate instructors, instructor positionality statements, more accessible office hours and "inclusion of decolonial perspectives," according to the report.
Guide created in 2020 to address 'systematic anti-Black racism in academia'
Blonder and colleagues created the tool in 2020 in response to calls for "department leadership to take anti-racist actions to address ways in which systemic anti-Black racism has permeated academia," according to an article from ESPM entitled "Ten UC Berkeley courses revamped to incorporate inclusive and anti-racist approaches."
"Specific course modifications implemented include language and tone changes in syllabus, especially around basic needs and accessibility; greater inclusion of decolonial, justice-centered, and Indigenous perspectives in course materials; deeper community engagement in assignments; and adoption of community guidelines," according to the article.
"Approximately $50,000 was spent on the summer course improvement effort (approximately $5000/course) thanks to contributions from several sources," according to the report. However, "there is currently no funding pathway to support future iterations of this work. No faculty, staff, or lecturer received any compensation for their time and participation."
Several publicly funded sources at Berkeley contributed funding, including the Berkeley Discovery Initiative, Berkeley Food Institute, Berkeley Life Sciences, Faculty Diversity Initiative Department of ESPM, Rausser College of Natural Resources, and The American Cultures Center, according to the report.
The Fix contacted the Berkeley Office for Faculty Equity & Welfare on Jan. 23 with questions about future plans for the tool. Director Karie Fraish responded that the office was not involved in the tool's creation and has no other comment.
Jerry Coyne, a biologist and professor emeritus at the University of Chicago, opined on the curriculum revamp in a Jan. 17 post on his blog.
"The biology classroom is the place to learn biology, not to be propagandized to adhere to the politics of your instructors," Coyne wrote. "Every minute devoted to 'other ways of knowing' and similar ideological diversions is a minute less of biology you can learn."
"The professors are adhering to a form of ideological religion, and…cannot resist sneaking that religion into science class. These classes will produce students who know less biology than students who took earlier versions of the class, but they'll sure be more vociferous and political," he stated.
MORE: STEM professors write 'rules for building an antiracist lab'
IMAGE: University of California Berkeley
Like The College Fix on Facebook / Follow us on Twitter