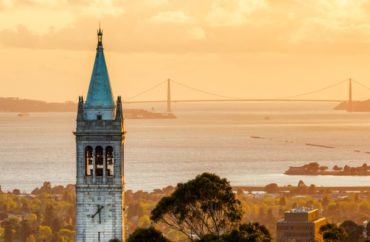 Public institution ran eugenics fund for about 40 years
University of California Berkeley recently publicly disavowed its "Genealogical Eugenics Institute Fund," which had been run by the public institution for about four decades but was quietly suspended in 2018 after questions and concerns were raised about the program.
A spokesman for the university told The College Fix there's nothing to show the fund was ever used for eugenics research, but questions and skepticism remains, in particular among members of a San Francisco-based pro-life group.
"They have stated that it hasn't been used for eugenic purposes, but they haven't released any information of what the money was used on and they're hiding the name of the person who apparently took most of the contributions who has apparently told people that it was not used for eugenics," said Terrisa Bukovinac, executive director of the bipartisan Pro-Life San Francisco.
Bukovinac, a self-described atheist, feminist, vegan and Democrat, as well as co-leader of Secular Pro-Life, added in her interview with The College Fix that it is difficult to verify Berkeley's claim, pointing out "eugenics" is literally in the fund's title.
What's more, she added, "It's very clearly stated even in the email that went out that this is about abortion."
The email she is referring to was penned by UC Berkeley School of Public Health Dean Michael Lu, who sent an email to faculty last month that disclosed the existence of the fund and "asked for feedback on renaming and repurposing the fund, along with potential actions such as a public apology and a public education project on eugenics across UC campuses," the Los Angeles Times reported.
For four decades, @ucberkeley has had a little-known research fund for eugenics, an ideology that inspired the Holocaust and forced sterilizations of 60,000+people in the U.S. Now the campus is disavowing it after a bioethicist, faculty called it out. https://t.co/MsMWoRYJAj

— Teresa Watanabe (@TeresaWatanabe) October 26, 2020
The newspaper reported that "no evidence has yet surfaced that Berkeley used the money for eugenic research. Instead, it funded a genetic counseling training program, among other uses."
"By accepting and using these funds over the past four decades, we must acknowledge that Berkeley Public Health has been a part of this horrific legacy of eugenics and its disastrous impacts," Dean Lu wrote in his letter. "It was wrong then. It is wrong now."
Eugenics — considered a horrific, racist and amoral field — seeks to improve the human race by eliminating undesirable traits through selective breeding, forced sterilization, human experimentation and other methods.
Historically, the field has been used to advance able-bodied white people. Margaret Sanger, the founder of Planned Parenthood, was a known racist who advanced eugenics through abortion. Nazi doctors also used eugenics in their quest for the master race. The mandatory sterilization of people with mental disabilities or prison inmates has also occurred in America's past.
Outrage over the fund was first voiced in 2018 by UC Berkeley bioethics Professor Osagie Obasogie, who is black. He told the Los Angeles Times he was "shocked and dismayed" to learn about the fund and that once he did, he and other peers raised concerns.
The Times reports that the $2.4-million fund, a gift from a family trust that dates back to the 1970s, was doled to support research and education "that could 'affect the distribution of traits in the human race,' including those related to family planning, infertility, assisted reproduction technologies, prenatal screening, abortion, gene editing and gene modification."
Dan Mogulof, assistant vice chancellor in the Office of Communications and Public Affairs at UC Berkeley, pointed out to The College Fix a sentence from the Times' article that stated "no evidence has yet surfaced that Berkeley used the money for eugenic research," adding that statement is factual.
"Beyond that, the University agrees with the faculty of our School of Public Health, in whose expert opinion, eugenics is not a legitimate scientific approach and must be condemned," he told The College Fix via email.
Mogulof's statement underscores an October 2020 news release put out by the university on the matter.
"In recent years, the Genealogical Eugenics Institute Fund annual payout, approximately $70,000, was used primarily to cover faculty and student research expenses unrelated to eugenics," according to the university's release.
"…Records of the fund's origins and use remain spotty. However, it appears that in the late 1980s, the fund was used to support a training program in genetic counseling at Berkeley Public Health. Later, it was used to cover miscellaneous expenses at the school, including staff salary and benefits, conference travel and operations costs. It was then frozen in 2018," it added.
But questions remain.
The Secular Pro-Life website point to a paragraph in the Los Angeles Times article that reports: "In recent years, the funds were primarily used by one faculty member, who has denied using them for eugenic research — an assertion supported by a review of the person's academic activities, Lu said. The dean declined to name the faculty member because the fact-finding review was ongoing."
Secular Pro-Life states the article "does not elaborate upon the staff members whose salaries were covered or the types of conferences funded. Were these abortion researchers and abortion conferences? There must also be full disclosure concerning the faculty member who made primary use of the fund."
"Extra scrutiny is warranted because UC Berkeley's sister school, UC San Francisco, is a notorious hub for pro-abortion extremism, including gruesome research on the body parts of late-term abortion victims."
The pro-life activists also note that projects supported relate to family planning, prenatal screening and abortion.
"This doubtless would have been in keeping with the donor's wishes. Abortion, particularly in combination with prenatal screening for 'search-and-destroy missions' against babies with disabilities, is absolutely a eugenic project," their website states.
Bukovinac said she believes that the alleged eugenics research is tied to fetal tissue research taking place as well.
"The [professor] who discovered this is the head of the ethics department for both UCSF and UC Berkerly, and UCSF is the late-term abortion capital of the world," Bukovinac told The College Fix. 
"They're engaged in several well-documented, high profile fetal tissue experiments that rely on late term fetuses to supply on a monthly basis to their research lab."
Bukovinac and Secular Pro-Life noticed the connection due to current research they are conducting, she said.
"The fetal tissue research issue is something we've been working on for a year and a half, so now to find out that there's an active eugenics program within the UC system and literally working underneath the supervision of an ethics committee that oversees both, the link between the two becomes very concerning," Bukovinac said.
But UC Berkeley suspended the fund in 2018, and last month announced plans to rename it and find new purposes for the money and resources "with the goal of educating the Berkeley campus community, and the broader public, about eugenics' brutal legacy," its news release stated.
"The pro-life community will need to keep a close eye on UC Berkeley to ensure that the fund is truly transformed, and does not promote abortion and ableism in any form," the Secular Pro-Life website states.
MORE: University activists ignore Planned Parenthood's eugenics
IMAGE: Guangli / Shutterstock
Like The College Fix on Facebook / Follow us on Twitter