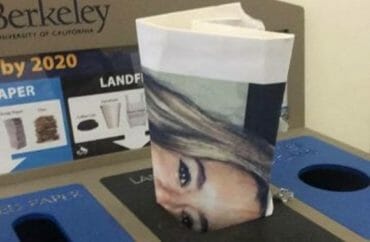 UPDATED
A large poster at UC Berkeley of Kate Steinle was torn and trashed by vandals just one day after it was used to honor her memory and mourn the verdict that allowed her killer to escape a murder charge.
The vigil, hosted Thursday by the Berkeley College Republicans, was also protested by a small but vocal group of demonstrators who accused the GOP students of using Steinle's memory to advance fascism and racism.
The vigil included candles which spelled out the name Kate, flowers, and an easel which held aloft a poster of Steinle's smiling face.
"The burden of tragedy no longer solely rests on the shoulders of her family, but on the shoulders every American," Naweed Tahmas, external vice president of the Berkeley College Republicans, said during the event.
"However, when illegal immigration policies kill Americans, we are told that we must remain silent. The media lectures us on how we are politicizing a death," he added during prepared remarks. "The media and our politicians want to erase Kate's name and story from history. It's on us to speak the name of America's lost daughter: Kate Steinle."
After the event, the flowers and poster were left atop the steps of Sproul Hall, where the event took place.
"We wanted students to see it in the morning," Tahmas told The College Fix. 
Instead, the poster was torn up and thrown away.
"Last night we held a candlelight vigil in honor of Kate Steinle. This morning someone tore up our poster of her and threw it in the trash. This is typical at UC Berkeley, where honoring the legacy of someone who was killed by a 7-time felon and 5-time deportee is offensive," the Berkeley Republicans posted Friday on Facebook.
Tahmas said to add insult to injury, the vigil was also disrupted by protesters.
"They were shouting during my remarks, and throughout the vigil. Before, during and after," he said. "I couldn't make out everything they were shouting, but it's usually: 'In the name of humanity, we refuse to accept a fascist regime.'"
Tahmas said the Berkeley College Republicans are very familiar with having their property vandalized, but they will not back down from their activism.
"The left's ideological monopoly on campus is under threat and they are lashing out," he told The Fix. "They want to frustrate us and exhaust our spirit, but their intimidation tactics will not stop us. Our organization will continue to bring to light the issues that the left is trying to censor on campus."
MORE: Protesters bum-rush Berkeley College Republicans, try to swipe life-size Trump cutout (VIDEO)
Editor's note: This article has been amended to clarify a quote. 
Like The College Fix on Facebook / Follow us on Twitter