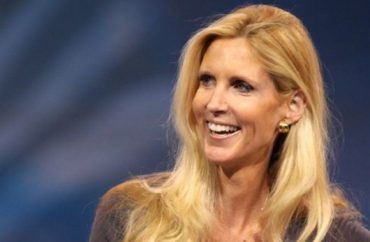 Treat her like you treated a liberal Democrat this week
The College Republicans won't accept the rescheduled date of May 2 offered by the University of California-Berkeley for their event speaker, the anti-immigrant writer Ann Coulter.
They are promising to sue the administration in federal court – for damages and to secure an injunction – if UC-Berkeley does not honor the April 27 date in the contract for Coulter's event.
A law firm representing the CRs and Young America's Foundation, an "event supporter," wrote to the school in a letter released Thursday night.
It said that UC-Berkeley's initial rules for Coulter's event were "arbitrary, pretextual and discriminatory" and violated the First Amendment "on their face."
Coulter had grudgingly agreed to speak during an afternoon time slot in an off-campus venue, as demanded by the school, despite a former Clinton administration official, Maria Echaveste, being given an evening slot on campus for her recent speech. (Coulter and Echaveste had both been invited by the nonpartisan student group BridgeCal.)
According to the letter, the university then "abruptly" said that even these rules weren't enough to protect Coulter's event from likely violence, and suggested rescheduling Coulter for five months later, long after members of the sponsoring student groups will have graduated.
The May 2 date, which doesn't work for the in-demand Coulter and her personal security team, is also a slap in the face to students who want to see Coulter, the letter says:
[It falls] during "dead-week," when students are not even in class, and are studying for finals and thus unavailable to attend speaking events on campus during the middle of the afternoon.
MORE: Faced with ridicule from left and right, UC Berkeley will let Coulter speak
UC-Berkeley also showed bad faith by demanding "four weeks of lead time" to plan for Coulter's April 27 appearance, and then suddenly finding another venue with only five days left after that date:
UC Berkeley's newfound flexibility strains credulity, and its four-week arbitrary notice rule imposed on conservative invitees appears to be an utter sham.
Just Wednesday it also let the former president of Mexico and Coulter's polar opposite, Vicente Fox, speak on the same subject as Coulter's planned address, in a favorable time slot and central location, "without incident."
It is the last straw for the CRs, whose recent speakers have also faced onerous rules from the university, the law firm said. They were forced to cancel the address by anti-feminist provocateur Milo Yiannopoulos shortly before it started "on the pretext" of inadequate security.
Here's the letter sent to Berkeley Vice Chancellor Stephen Sutton tonight: pic.twitter.com/IWgqsUTJ3d

— YAF (@yaf) April 21, 2017
UC-Berkeley has repeatedly used the threat of the "heckler's veto" to extort unconstitutional security fees out of student groups that invite conservative speakers, as well as saddle them with inconvenient locations and time slots, in the hope that the groups will stop inviting "alternative voices" to campus.
It may not legally discriminate against viewpoints "simply because a potential mob shares the administrators' distaste":
Surely a public institution of higher learning should be a crucible of challenging ideas and thought, not a kindergarten where wards of the state are fed a steady diet of pasteurized pablum.
The university will either agree to treat Coulter like it treated Echaveste and Fox, with a favorable time slot and location on April 27, or it will see the CRs in federal court, the letter said.
It warned the administration to start preserving evidence now or face "evidentiary or other sanctions in litigation" if it deletes anything of relevance to a First Amendment lawsuit.
UC-Berkeley has until 5 p.m. Friday to agree to the conditions or face litigation.
MORE: Berkeley Republicans stay strong, active despite repeated attacks against them
Like The College Fix on Facebook / Follow us on Twitter