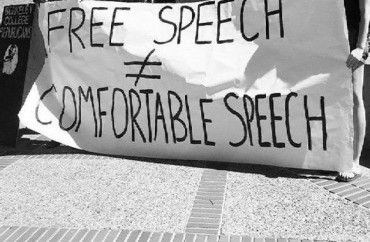 Group has 'overlooked some of our central policies'
As the University of California-Berkeley launches its "Free Speech Year" under a new chancellor who tells students to "develop inner resilience" and embrace free speech as "our legacy," one black mark on its record continues to frustrate the school:
It is publicly designated as a university where four campus policies can "too easily" be applied arbitrarily and abused by administrators.
The administration is haggling with the Foundation for Individual Rights in Education to change its "yellow light" speech-code rating, which stems from four policies on "civility and respect," reporting of bias and hate speech, free-speech zones and "harassment and abuse."
UC-Berkeley spokesperson Dan Mogulof confirmed that conversations were taking place with the free-speech group, telling The College Fix in an email the rating was "unjustified" and that FIRE had "overlooked some of our central policies."
First offer was ignored three years ago
The home of the "Free Speech Movement" from the civil-rights era (below: FSM leader Mario Savio), UC-Berkeley took a more nuanced view of free speech three years ago.
Then-Chancellor Nicholas Dirks told the community that "the commitment to free speech and expression can lead to division and divisiveness that undermine a community's foundation."
It faced multiple controversies this past academic year in its dealings with the Berkeley College Republicans, who accused the administration of treating its conservative invitees differently than liberal speakers invited by other groups, leading to two cancelled events with anti-feminist provocateur Milo Yiannopoulos and conservative icon Ann Coulter.
Even after the administration agreed to pay the venue fee for its latest invited speaker, conservative pundit Ben Shapiro, the Berkeley CRs accused the administration of making it pay more than $15,000 for a police presence that would only intervene to stop life-threatening violence.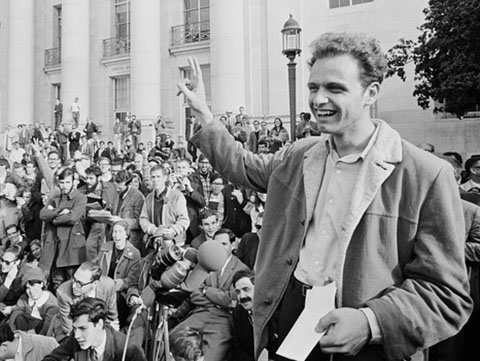 The much-maligned public university's first move to repair its image and re-establish itself as a center for diverse opinions, at least in free-speech rankings, came in mid-July, according to a FIRE official.
Azhar Majeed, vice president of policy reform, told The Fix in a phone interview that the administration had reached out to FIRE expressing interest in revising its codes to earn the coveted green-light rating, meaning its policies "do not seriously imperil speech."
This was not the first time that FIRE had tried to work with UC-Berkeley on its policies, according to Majeed: The university ignored a 2014 FIRE letter inviting it to become the first green-light institution in California.
But after the Yiannopoulos and Coulter controversies, there seemed to be a change in the university's attitude, Majeed told The Fix: "This is the first collaborative back-and-forth we have had with Berkeley."
Limited to 'specific wording' that can 'cause confusion'
The UC-Berkeley statement on free speech explains how the UC System policy on speech and advocacy, "which guarantees students the constitutionally protected rights of free expression, speech, assembly, and worship," applies to its campus conduct code.
University spokesperson Mogulof told The Fix that FIRE doesn't seem to be citing "any actual infringement of free speech rights" on campus, but seems more concerned with "specific wording issues that FIRE believes cause confusion."
He did not point to any specific document or wording that is under review, saying that "now that the summer is over … we will be reviewing FIRE's suggestions for addressing these ambiguities."
UC-Berkeley actually has more green-light policies than yellow-light policies as rated by FIRE, but the university rating is determined by the lowest rating given to any one policy.
.@Emily_DeRuy reports new Cal chancellor Carol Christ aims to reclaim its legacy as the home of Free Speech. https://t.co/2RPfxh9ZtN pic.twitter.com/m3yIADX8Ho

— Michael T. Malone (@MichaelTMalone1) August 25, 2017
FIRE's top rating goes to an interim student-conduct policy on "sexual, racial and other forms of harassment"; UC-wide policies on sexual harassment and sexual violence, as well as speech and advocacy; a regents' policy protecting student free speech; and the Berkeley campus's own free-speech statement.
Majeed doesn't attribute the university's change of attitude to incoming Chancellor Carol Christ, who made the call to pay the venue fee for Shapiro's visit next month after another public spat with the Berkeley CRs over scheduling a desirable time, date and location for Shapiro.
"It speaks more about an institutional awareness about these policies" and gives the university an opportunity to "earn some positive publicity regarding free speech," Majeed said.
Like The College Fix on Facebook / Follow us on Twitter
IMAGE: Sam Churchill/Flickr