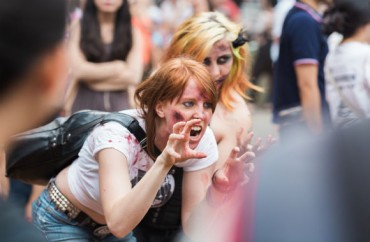 Student activists at the University of California-Berkeley have a history of disrupting and getting physical at campus events where they have no stated problem with the speaker: They just want a venue to complain.
This happened to gay tech billionare Peter Thiel, whose talk was shut down by Black Lives Matter protesters almost a year before the University of Missouri riots, and earlier this month it happened to Metallica drummer Lars Ulrich and Salesforce CEO Marc Benioff, where one protester broke through police and lunged at the CEO before getting tackled.
Their problem with Ulrich and Benioff (a prominent activist for LGBT causes)? They refused to follow the "speaker boycott" by student labor activists angry about UC-Berkeley's practice of subcontracting labor.
The activists just got a message from the administration that is not remotely mixed: Violence works.
Inside Higher Ed reports that the school has agreed to the activists' demands by negotiating an agreement with their incredibly powerful union, which represents 22,000 University of California employees:
The university says it will offer jobs to "all regular night shift and athletics custodians who presently do this work through private contractors … [and] all campus stack parking attendants who are currently contracted through Laz Parking." Additionally, Berkeley said it would offer full-time employment to another 24 custodians who have temporary positions there. …

The union agreed to end the boycott and inform scheduled speakers that it no longer objects to their visiting campus.
RELATED: UC-Berkeley protester lunges at LGBT activist CEO because he's rich
The speaker boycott led four planned speakers to postpone their campus talks, according to the Berkeley Forum, a student-run organization that plans the event.
The university curiously thinks that by caving this time, it can sate the union's appetite for destruction:
When the union's contract is up again for negotiation, [UC-Berkeley spokeswoman Janet] Gilmore said, the university will seek to bargain for an end to the use of the tactic in the future.

"The tactic actually stifles the free exchange of ideas," she said. "It interferes with the operation of the campus by denying the community the benefit of hearing the perspective of state, national and international leaders and scholars, and denies students the opportunity to share their stories and ideas with these leaders."
The free exchange of ideas isn't exactly a labor priority, so Gilmore might want to think of another rationale for getting the union to put down its pitchforks.
Read the story, which doesn't bother mentioning the attempted violence against Benioff less than three weeks before the agreement.
RELATED: Ferguson protesters crash billionaire entrepreneur's speech at UC-Berkeley
RELATED: Black grad students hijack UC-Berkeley event, exercising heckler's veto
Like The College Fix on Facebook / Follow us on Twitter
IMAGE: rawmn/Shutterstock