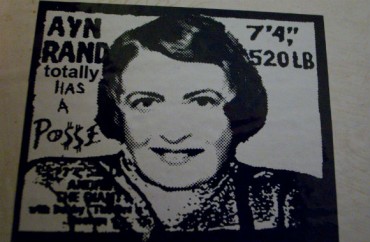 A little-known way for colleges to threaten students and faculty is by claiming their writing or activism violates the school's trademarks.
This happened to a pro-marijuana club at Iowa State and a faculty blog critical of the Chicago State administration, as The College Fix has noted.
Several months after the Foundation for Individual Rights in Education wrote to the University of California-Davis to protest its punishment of a student club on trademark grounds, the school has backed down, FIRE said today.
What was the cardinal sin of the Ayn Rand Society at UC Davis? Identifying where it was based:
ARS contacted FIRE for help after the university's Center for Student Involvement (CSI) demanded ARS change the URL of its Facebook page, which contained the letters "UCD." The Center said the use violated CSI's trademark policy, which warns that violators could face criminal punishment. After ARS reported that it could not change the URL, CSI instructed the group to delete the Facebook page entirely. When ARS refused to comply, the group lost its "good standing" status, including its listing on UC Davis' student organization search page, as well as its ability to reserve campus meeting rooms and apply for funding and grants.
Who knows what happened since FIRE complained to the school in December, pointing out that "the law protects non-commercial use of trademarks where there is no substantial likelihood of creating confusion":
Earlier this month, Center for Student Involvement Director Anne Reynolds Myler notified FIRE and ARS President Hong Phuc Ho Chung that UC Davis concluded ARS' use "is consistent with our practice of allowing use of the name to designate location (e.g., Ayn Rand Society at UC Davis)." Myler wrote that the club's status would be restored and thanked FIRE and Chung for bringing the policy to UC Davis' attention.
Advice for student activists of all persuasions: Keep FIRE on speed dial, and tell administrators you're calling in the cavalry when they issue bogus threats.
IMAGE: Scott Beale/Flickr
Like The College Fix on Facebook / Follow us on Twitter