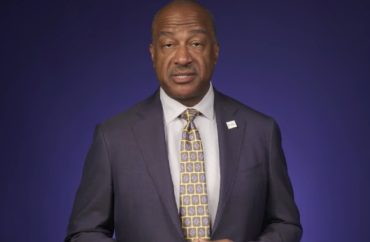 Chancellor accused Kirk of spreading 'misinformation' before doing it himself
Hours before a Turning Point USA event that turned violent thanks to Antifa agitators who smashed windows and tried to storm into the event, the chancellor of University of California Davis condemned Charlie Kirk as a purveyor of "hate" and "misinformation."
While he accused Kirk of spreading "misinformation," the chancellor himself made false claims about the conservative group leader.
Chancellor Gary May said that TPUSA CEO Charlie Kirk has "advocated for violence against transgender individuals" before explaining why he could not legally stop the event from happening.
His language echoed that used by a Sacramento Bee opinion editor Hannah Holzer who falsely claimed Kirk had advocated for "lynching of trans people." She has since deleted that reference from her article, but an archived version can be read here.
Chancellor May said:
Thank you for sharing your distress at a student group hosting a speaker who is a well-documented proponent of misinformation and hate, and who has advocated for violence against transgender individuals. as a campus that is committed to our principles of community. UC Davis stands with our transgender and non-binary Aggies in opposition to this hateful and divisive messaging. UC Davis did not invite this individual and is not sponsoring this event.
May said that the campus attorney told him that the university had to allow registered student organizations to reserve space and invite speakers, "even if the speaker's intended speech is loathsome and hurtful to me and to others in our campus community."
UC Davis- ANTIFA have broken the windows to one of the entrances to the building where @charliekirk11 is going to be giving his speech pic.twitter.com/pXxchZoAPx

— Savanah Hernandez (@sav_says_) March 15, 2023
The chancellor explained that while he "abhor[s]" the "inflammatory speech" of Kirk, the bar was too high for "incitement of violence," for the campus to cancel the event.
May said Kirk's views are "offensive" but that he could not stop the event, since the university is "committed to the First Amendment" and "required to uphold it."
He also called Kirk a "provocateur" and said he hoped the event would be devoid of attendees.
UC Davis- Police grab the umbrella and signs of the ANTIFA members as they advance forward toward the building where TPUSA is holding their event pic.twitter.com/MfHyX5S9Mm

— Savanah Hernandez (@sav_says_) March 15, 2023
Unfortunately, Antifa did not hear May's directive to engage in "nonviolent" action, as video captured by TPUSA shows the leftist agitators trying to storm into the building and being taken down by riot police.
Kirk condemned the violence before his speech.
"I don't know if you saw but they broke some windows, the terrorists did outside… people had things thrown at them," he said.
"We're not going to put up with force, of trying to shut down people you don't like, and instead we are going to have a free society based on speech, based on dialogue, based on discourse."
"Tonight is a statement to them that they're the losers," Kirk said.
The event even drew attention from Elon Musk. "Not a peaceful protest at all," the CEO of Twitter replied to a video Kirk posted.
MORE: Stanford law dean berates federal judge invited to speak on campus
IMAGE: UC Davis/YouTube
Like The College Fix on Facebook / Follow us on Twitter