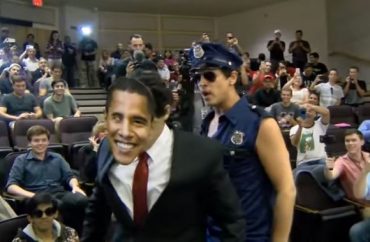 UPDATED
UC Irvine has revoked the UCI College Republicans' right to book event space through Student Center and Events Services through the spring 2017 quarter in the wake of a controversial Milo Yiannopoulos visit earlier this month.
A video of the June 2 event shows Yiannopolous enter the venue in a police outfit costume with a hot pink "penis gun" in his holster. As some in the crowd cheered, he proceeded to pretend spank a person wearing an Obama mask with a fake baton to kick off the festivities. Another person in a Donald Trump mask said "Obama, you're fired!" Prior to the event, some College Republicans handed out pacifiers to students upset Yiannopolous visited the campus.
Campus officials allegedly imposed the sanction after they learned Yiannopoulos, who sings the praises of Donald Trump, was to be invited back to the campus this fall by the group. UC Irvine Chancellor Howard Gillman is no fan of Trump, and the school leader even sent an email to the entire campus community – professors, students and employees – to denounce Donald Trump's call to halt Muslim immigration in December.
As for the latest development, campus spokeswoman Cathy Lawhon told The College Fix via email that UCI College Republicans still maintain all other privileges afforded registered campus organizations, but the sanction against them was handed down because the group failed to provide proof of insurance for Yiannopoulos' private security firm for his June 2 "Dangerous Faggot Tour" visit.
MORE: Fire alarm pulled during anti-PC documentary at UC-Irvine, canceling event
"This is a requirement for all registered campus organizations," Lawhon said, adding "the revocation of privileges to reserve space has been imposed on other registered campus organizations that fail to provide adequate information regarding their events."
"We take very seriously the safety and security for all students and community members," she continued. "Our policies and procedures are designed to minimize physical risk associated with hosting events on campus. We also take very seriously the right of College Republicans and a wide variety of student groups to host events and speakers representing a diversity of ideas and perspectives."
MORE: UC Irvine welcomes 'political prisoner' involved in cop killings
Not so, said Peter Van Voorhis, vice president of the College Republicans at UCI, who told The College Fix on Tuesday that UC Irvine has a "horrendous record of protecting the rights of conservative students."
"Administration has been incredibly difficult in terms of funding and event planning," he said. "They use every method possible to shut us down and they continually try to cut our funding."
MORE: UC Irvine chancellor condemns Trump in email to campus
Van Voorhis said the sanction came down after administrators learned the group was planning to bring Yiannopolous back to the campus, likely this fall.
"Time and time again they deny equal funding and equal protection to conservative groups," he said. "They only enforced an outdated and ambiguous rule when we made it clear that we were planning another large event with Milo Yiannopolous. This is academic McCarthyism at its highest level, and we will not tolerate it."
MORE: Pro-Israel UC Irvine event shut down by SJP activists
UCI College Republican President Ariana Rowlands told Breitbart News the official reason campus officials gave for the sanction does not ring true because "the group previously hosted conservative pundit David Horowtiz, who also required private security, but the group were never asked to provide an insurance certificate, and were not penalised for not doing so."
Ironically, in introducing Yiannopolous at the June 2 event, Van Voorhis said one of the reasons UCI College Republicans brought the controversial firebrand to the campus was because "we are tired to school administrators continuing to trample on the rights of conservative students to speak their minds."
In the wake of the decision, Reason associate editor Robby Soave points out that the "university has the right to create rules in order to facilitate safe and productive speaking events. It may also punish students for breaking these rules, as long as it enforces them fairly, without consideration for the ideological views of said students. I'm not sure what happened here, but if I were a university administrator, I would be reluctant to make life difficult for a student-group for an entire year because of a mere paperwork mix-up."
Correction: An earlier version of this story stated the sanctions against the UC Irvine College Republicans effectively meant they could not host large events on campus through spring 2017. Campus spokeswoman Cathy Lawhon, in an email to The College Fix, stated they still can host events: "There are huge venues available on campus to College Republicans that don't have to be booked through Student Center and Events Services. … The Bren Events Center holds 8,000 people. That's not under the purview of Student Center and Events Services. There are also auditoriums and large classrooms that are rented directly by the schools."
MORE: Border Patrol backs out of UC Irvine campus career fair over protest
Like The College Fix on Facebook / Follow us on Twitter
IMAGE: Screenshot