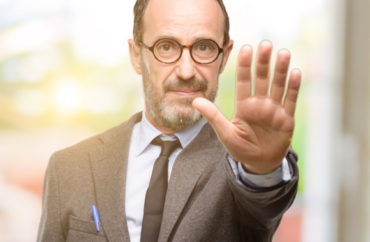 'The opinions presented in this Twitter account do not represent UC Merced or the University of California'
Officials with the University of California, Merced, have disavowed a series of anti-Semitic tweets made by one of their professors, condemned the language used by the scholar as "repugnant," and launched an investigation into the matter.
On December 21, JWeekly reported that Abbas Ghassemi, a professor in the Engineering Department at UC Merced, had a recently deleted Twitter account riddled with various anti-Semitic tweets.
One of the many tweets depicted a "Zionist brain," characterized by labels such as a "frontal money lobe" and "world domination lobe." Many of Ghassemi's tweets also used "IsraHell" in place of "Israel," JWeekly reported.
And in response to Joe Biden's election win, the news outlet adds, Ghassemi retweeted "Surprise, surprise!! The entire system in America is controlled by [the] Zionist. Change of president is just a surface polish, change of veneer. Same trash different pile!"
The tweets circulated among social media and prompted outrage, including from Jewish Journal columnist Micha Danzig, who called the tweets "Jew hatred."
In late December, campus officials disavowed the tweets and launched an investigation.
"A Twitter account associated with a faculty member included messages that crossed the line established by the Board of Regents in their 2016 Statement of Principles Against Intolerance condemning anti-Semitism and 'anti-Semitic forms of anti-Zionism,' and affirming that 'acts of discrimination that demean our differences are antithetical to the values of the university and serve to undermine its purpose,'" Chancellor Juan Sánchez Muñoz stated in a Dec. 29 memo to the campus.
"The opinions presented in this Twitter account do not represent UC Merced or the University of California. They were abhorrent and repugnant to us and to many of our colleagues and neighbors; they were harmful to our university, our students, and our years of work to build an inclusive and welcoming community," the memo added, noting the Twitter account has since been deleted.
"…We have called upon the dean and department chair to work with the Office of the Vice Provost for Academic Personnel to conduct an inquiry into potential violations of our standards, the UC Faculty Code of Conduct or other policies of the university, to determine what consequences are appropriate."
Additionally, the Assistant Vice Chancellor of External Relations, James Chiavelli, asserted that these comments were never officially linked to UC Merced, as "the now-inactive Twitter account made clear, these were the opinions of a private individual, not the positions of the institution."
Many officials from UC Merced did not respond to requests for comment from The College Fix, including Professor Ghassemi and members of the public relations office.
Chiavelli responded with the memo sent to the UC Merced community.
Danzig, a member of the #endJewHatred organization, born in Israel, and a former policeman turned lawyer, said he has had enough with the complicity of officials on UC campuses.
Danzig said that when he saw the JWeekly story, he could not stand idly by. Instead, he "decided to do something about it," he told The College Fix in an interview.
Danzig organized a campaign with Herut and the #endjewhatred organization, of which he is an active member.
When asked about the feedback he has received, he noted that while no UC Merced Jewish students have reached out to him personally, he has received "overwhelmingly positive feedback from both Jews and all types of people over email, Twitter, and Facebook."
Danzig said he is concerned about how the school will decide to deal with Professor Ghassemi.
He said Ghassemi's now-deleted Twitter page "contained nearly one and a half years of anti-Semitic posts." Because of that, Danzig said he remains "unsure as to what there is to investigate here."
When asked about negative feedback that he has received, Danzig replied, "Of course."
"There are always the people that say anti-Zionism is not anti-Semitism, and nobody denies that criticizing Israeli policy is not anti-Semitic," he said,
But, he added, "there are the three D's: Delegitimization, Double Standards, and Demonization."
"So while criticizing Israeli policy is not anti-Semitic, holding Israel to another standard than other countries or actively delegitimizing Israel's right to exist certainly constitutes anti-Semitism," he said.
Lastly, Danzig said that "swapping the word Jew with Zionist does not diminish the anti-Semitic tropes whatsoever."
MORE: Fired Holocaust-questioning principal gets reinstated
IMAGE: Kraken Images / Shutterstock
Like The College Fix on Facebook / Follow us on Twitter