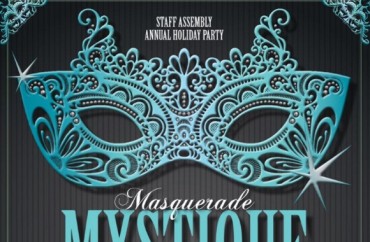 Many universities have bent over backward this December to ensure their festivities do not include the word "Christmas."
We've got Ole Miss renaming its annual "A Grand Ole Christmas" tree-lighting to "Hotty Toddy Holiday." The University of Tennessee-Knoxville admonished the campus to "ensure your holiday party is not a Christmas party in disguise." James Madison University wouldn't let a Christian song "Mary Did You Know" be sung at its "Unity Tree" lighting.
It's not just universities. Many K-12 schools over the years have banned "Christmas" carols and "Christmas" trees as well. If they do offer them, it's strictly "Frosty the Snowman" and "Learning" trees with letters for ornaments.
It's like some school officials are allergic to the word "Christmas." It's unclear why it's so offensive to use the word Christmas, but nevertheless, but many campuses avoid it like the plague.
The latest example comes from UC Riverside and its annual "holiday" party.
Masks! Mystery! Mocktails and games of chance…..what else could it be but the UCR Staff Assembly's Masquerade Mystique holiday party, scheduled for Wednesday, Dec. 16 from 3 to 5 p.m.

The annual event is designed to give staff a chance to get together and celebrate the holidays, with casino-style games, photo booths, hors d'oeuvres, entertainment and lots of prizes.
The photo advertising the party includes a Frozen-inspired mask. The party includes a collection of gift cards for down-on-their luck employees. What a loving, generous, giving thing to do – sort of in keeping with the Christmas spirit, almost like a Christmas gift.
There's more where that came from. Chapman University? It's a "Holiday Tree" and a "Winterfest" celebration. Willamette University has "a holiday celebration … holiday concert … holiday lights."
What holiday are they celebrating, pray tell?
Why is the word Christmas so offensive? Why can't we say the word Christmas on campus when that's what's being celebrated?
Is it because secular leftists who control universities cannot stand to utter the word "Christ?" Cannot stand, even in the remotest of ways, to recall Christ's gift to this world, Christ's generosity?
Granted, there are a lot of universities that still use the word "Christmas." Thank goodness for that. Let's hope they don't cave to political correctness.
Merry Christmas, everyone.
RELATED: At tree-lighting ceremonies, one university forbids Christian song, another deletes word 'Christmas'
Like The College Fix on Facebook / Follow us on Twitter