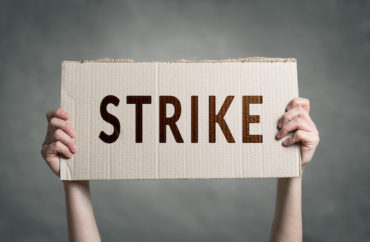 Almost literally everything was closed down
The University of California, Santa Cruz, cancelled classes and shut down libraries, dining halls and student services on Thursday in response to aggressive striking tactics from graduate students there who are hoping to force the university to pay them a higher "cost-of-living" wage.
The strike "essentially ground the campus to a halt Thursday," The Santa Cruz Sentinel reported yesterday. Striking activity has escalated at that campus throughout this week after the university last Friday fired dozens of graduate students who were refusing to do work or turn in grades as part of their strike.
On Thursday the university's "libraries, bookstore, student-health center and most dining services" were all closed simply because staff were unable to access the university. Strikers "blocked roadways near both entrances [to campus] early Thursday morning," the paper reported. On-campus transportation was also temporary halted.
The school on Thursday warned faculty, staff and students to stay away from the campus due to "unsanctioned strike activity."
The planned strike was announced late Wednesday night.
The Sentinel reported that the university system criticized the strike for violating a labor agreement with the local United Auto Workers union, with the school stating, in part:
"The University is committed to free speech on its campuses and supports the rights of the UC community to make their views known. But there is a significant difference between public demonstrations of self-expression and actions that directly violate the terms of a collective bargaining agreement and disregard one's job responsibilities, including disrupting educational activities. These actions do nothing to help address the challenges of the rising cost of living in California, with which all students and employees across UC must contend."
Strikes and demonstration have rocked the rest of the University of California system in recent weeks. "More than 1,000" faculty, staff and students participated in a solidarity rally at UC Santa Barbara on Thursday; striking students there have vowed to withhold all grades and graduate student work duties until they receive a cost-of-living raise.
Graduate students at UCLA, meanwhile, voted yesterday to go on strike next week pending the approval of grad students from several university departments. And at UC Davis, graduate students are withholding grades in an effort to force a cost-of-living raise. These strikes are all "wildcat," meaning they are unsanctioned by the union leadership representing the students.
Read The Sentinel's report here.
MORE: UCSB graduate students strike for $1800 'cost-of-living' adjustment
IMAGE: Sandra Matic / Shutterstock.com
Like The College Fix on Facebook / Follow us on Twitter