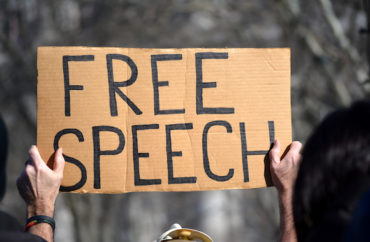 A lawsuit has been filed against the University of Central Florida alleging that its speech policies are suppressing students' abilities to express their opinions on political and social issues.
The lawsuit was filed by Speech First, a nonprofit association dedicated to defending free speech on college campuses.
"Through the use of three policies the University of Central Florida and its administrators have created a series of rules and regulations that restrain, deter, suppress, and punish speech about the political and social issues of the day," the group said in a news release.
The lawsuit takes on three main issues: the university's harassment policy, its computer usage policy and its bias response team, alleging all three stifle freedom of speech and expression in some way.
Asked to respond to the lawsuit, UCF spokesman Mark Schlueb did not address it directly but said the school expects students and employees "to follow state and federal laws that guarantee freedom from unlawful discrimination, and our policies are meant to ensure that."
Speech First alleges that three separate University of Central Florida policies violate the First and Fourteenth Amendments.
The first is the university's discrimination and harassment policy, which prohibits verbal or physical conduct that denigrates individuals based on their identity.
"Discriminatory harassment may take many forms, including verbal acts, name-calling, graphic or written statements, or other conduct that may be humiliating or threatening," according to the policy.
Speech First alleges the policy's overbroad restriction on protected speech is unconstitutional.
The second facing objection is the university's computer usage policy, which lays out rules that students must follow when using the university's network.
Students who violate the policy are subject to a loss of computer and network privileges and formal discipline. Speech First takes issue with a section of the policy that prohibits the ability to "transmit or display images, sounds, or messages that reasonably could be perceived as being harassing, invasive, or otherwise unwanted."
The lawsuit argues such a policy is too vague and incompatible with the First and Fourteenth Amendments.
The third policy Speech First objects to is the university's bias response team – also known as the "Just Knights Response Team." The team is comprised of university staff, faculty and students. The team is designated to police "bias-related incidents."
The University of Central Florida defines a "bias-related incident" as the following:
"A bias-related incident is any behavior or action directed towards an individual or group based upon actual or perceived identity characteristics or background. This bias motivates an individual to act in an offensive manner towards an individual or group including but not limited to: race, sex (including gender identity/expression), color, religion, ancestry, national origin, age, disability, veteran status, military status, or sexual orientation. Such acts may result in creating a hostile environment and may have a negative psychological, emotional, or physical impact on an individual, group, and/ or community."
The university also asserts that "bias-related incidents occur without regard to whether the act is legal, illegal, intentional, or unintentional."
The JKRT has a bias intake form in which members of the campus community can report a bias or hate-related incident. The Just Knights Response Team follows up on the report and determines what further action must be taken.
If a student is accused of engaging in a "bias-related incident," they can be summoned to meet with university officials for discussion, counseling, training and consensus-building.
Speech First alleges the bureaucratic process that determines the validity of reported incidents, and the vague definition of a "biased related incident," muzzles unfettered discourse and subsequently violates the First and Fourteenth Amendments.
Speech First's lawsuit, filed in the United States District Court for the Middle District of Florida Orlando Division, seeks a permanent injunction barring UCF from enforcing the policies and disbanding the bias response team.
But Schlueb told The College Fix that the University of Central Florida has a long history of supporting free speech and open expression. He pointed to the first paragraph of its Student Rules of Conduct:
"The right of all students to seek knowledge, debate ideas, form opinions, and freely express their ideas is fully recognized by the University of Central Florida. The Rules of Conduct…will not be used to impose discipline for the lawful expression of ideas."
But Speech First President Nicole Neily notes that, "We believe that the school has designed these policies to have the effect of chilling students' speech so that the policies have both the design and effect of discouraging students from expressing themselves."
MORE: UCF professor fired after he tweeted controversial statements
IMAGE: Shutterstock
Like The College Fix on Facebook / Follow us on Twitter