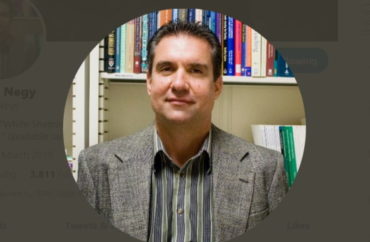 Professor says university fired him because he openly questioned systemic racism
After a 22-year career at the University of Central Florida, tenured psychology Professor Charles Negy was fired last week.
"I'm overwhelmed at the moment," Negy said in an email interview with The College Fix. "I'm still reeling with the reality that UCF terminated me over what truly are absurd and even unconstitutional grounds."
With no income now, he said he has plans to put his house on the market and try to raise funds for the massive legal battle he knows he has ahead of him.
For Negy, it's likely to be a difficult road. It already has been. He said GoFundMe last week deleted an account he had set up to raise money for his legal fees.
"Yes, the battle will be long," he said. "But I must stay the course."
Negy made headlines over the summer after he tweeted "Black privilege is real: Besides affirm. action, special scholarships and other set asides, being shielded from legitimate criticism is a privilege."
He also tweeted: "Sincere question: If Afr. Americans as a group, had the same behavioral profile as Asian Americans (on average, performing the best academically, having the highest income, committing the lowest crime, etc.), would we still be proclaiming 'systematic racism' exists?"
He has since deleted the tweets that caused controversy at the time, but a petition demanding he be fired had garnered nearly 35,000 signatures and protesters even targeted his home.
MORE: 'Black privilege is real' prof under fire: protest hits his home
The uproar prompted a massive administrative investigation that ultimately led to Negy's termination.
"None of the findings in the investigation are a result of Dr. Negy's comments on Twitter, which are protected as free expression, or comments in the classroom that were the subject of some students' complaints but that the university determined were protected by academic freedom," the university's spokesman, Chad Binette, told the Sun Sentinel.
Negy, for his part, has a far different take on the matter.
"UCF terminated me based on their bogus, 244-page investigative report that lists highly dubious charges that none, alone, would warrant termination, but they believe together justifies de-tenuring me and firing me," he said, adding it's a "complete assault on free speech, the free exchange of ideas, and the principle of tenure."
The 244-page report, prepared by UCF's Office of Institutional Equity, includes interviews, documents, emails and classroom audio. It argues Negy violated university policies.
The report alleges Negy "failed to report and appropriately respond to a student's disclosure of having been sexually assaulted by one of his teaching assistants," and that he deterred "students from filing complaints related to his classroom conduct."
It also alleges he "mocked students, repeatedly used profanity, and made inappropriate comments related to sexual assault during class such as telling students that there were many false rape accusations that plagued college campuses."
Finally it claimed Negy "bribed a health clinic representative to provide him with a falsified yellow fever vaccination certificate in 2011 while in Peru for a UCF study abroad program."
But the Foundation for Individual Rights in Education, which defends First Amendment rights on campus, put out a lengthy review of the report headlined "UCF is killing academic freedom to punish tweets it didn't like."
"Nobody interviews 300 people over seven months about incidents covering 15 years unless they're desperate to find something, anything, to use against their target," wrote FIRE's Adam Goldstein.
"…UCF implemented a process calculated to find reasons to fire an employee who had offended people with this speech."
To my followers: Here is my response to UCF's Notice to Terminate me:https://t.co/sTBvqeoVKq

— Charles Negy (@CharlesNegy) January 24, 2021
Negy, in his interview with The Fix, said his first step to fight back is having his union-appointed attorney grieve his firing.
After that, he said his private attorney, Samantha Harris, will file a lawsuit against UCF for retaliation of his constitutionally protected speech and defamation.
Asked about GoFundMe's decision to remove Negy's fundraising page, Harris said she is "outraged."
"Good legal representation is expensive," she told The College Fix, "and the idea that people whose rights have been violated should not be able to fundraise for their legal expenses due to the nature of the allegations against them is awful — do we really want only the wealthy to have access to legal services?"
1/2 Fun fact: if you are falsely accused of harassment or discrimination and forced to defend yourself, GoFundMe will delete your fundraiser for violating their terms of service–

— Samantha Harris (@samk_harris) January 31, 2021
Negy has since set up a PayPal account.
As for the allegations against him, he said officials wanted to terminate him and found excuses to do so.
"Asking me about a 'bribe' situation they read about that took place years prior in Peru — no student had complained about that. Asking me if I had used UCF equipment to write a book – no student had complained about that," he said.
"They had a predetermined outcome (my firing due to my criticism of diversity/equity/inclusion) and were desperate to pile on charges to justify their goal."
As for his provocative tweets, "I don't think my tweets were racist."
"Many conservative African Americans say the same things openly," he said in his email to The Fix. "But those activists (many affiliated with BLM) demanded I be fired. And by luck, they found a receptive university president. He was recently hired and declared from day one that he would promote 'diversity/equity/inclusion' in all of his policies."
According to Negy, there's a video of UCF President Alexander Cartwright telling student protesters Negy should have been fired before he got tenure.
"And on that same day, he posted a message on the UCF webpage denouncing my tweets as racist and vile and closed with encouraging all 70,000 UCF students to lodge complaints about any racial harassment — even anonymously," Negy said.
"Then the UCF Office of Equity and Inclusion interrogated me for nine hours, after having already reviewed my entire 22 history at UCF. Six months later, they think they have compiled a hodgepodge of reasons to justify firing me. It was a pretextual witch hunt from day one."
"The goal was to find the grounds to fire me because I am openly critical (in my classes) of the diversity/ equity/inclusion ideology, I openly question the beliefs in systemic racism, white privilege, and am very critical of critical race theory. That's my opinion."
MORE: College set to fire professor who tweeted 'Black privilege is real'
IMAGE: Twitter screenshot
Like The College Fix on Facebook / Follow us on Twitter