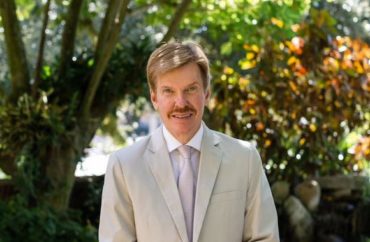 A University of Central Florida professor is under fire for dressing up as various characters in his recorded lessons — because he allegedly used "dark makeup" and mimicked various accents.
According to FOX 35 in Orlando, a student complained that Judaic Studies Professor Kenneth Hanson's videos made her feel as if she was "in a class in the 1960s."
"I first noticed his practices with dark makeup, costumes […] and he would put on like an accent while role-playing as historical figures in his lecture videos and that's when I first noticed this is definitely something that's inappropriate and wrong," the student, who wished to remain anonymous, said.
Hanson has faced complaints about his videos before, the news station found. In 2018 a student made a complaint akin to the recent one, but the university determined Hanson had not acted "inappropriately."
Last year following an accusation that he "darken[ed] the skin tone of his face to portray different characters," UCF  recommended that Hanson "discontinue the practice."
UCF Palestinian Student Association President Syria Lutfi called Hanson's characterizations "hurtful."
"It's so hurtful to see that I have to walk on the same campus that this man roams on and puts out videos like that and educates students mocking my culture," Lutfi said. "I don't know why the school hasn't done anything to remove this man from power."
In a statement, UCF told FOX 35 "We recognize this content was offensive to some of the UCF community. The videos related to the complaints have been removed from the courses by Dr. Hanson, and he is working with his department leadership and students to address any further concerns about course content."
Hanson did not respond to multiple FOX 35 phone calls and emails.
The professor has overwhelmingly positive ratings and reviews on Rate My Professors.com; the only (two) "awful" ratings are from this fall and accuse Hanson of "xenophobia."
MORE: ASU instructor accuses black DJ at local school event of dressing in … 'blackface'
IMAGE: Michael Johnson / Twitter screencap
Like The College Fix on Facebook / Follow us on Twitter