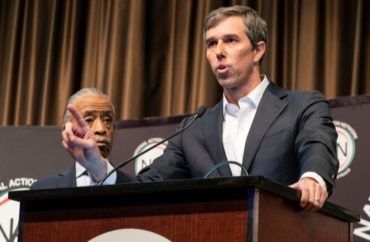 Pair has lost five races in the past three cycles combined
Two failed Democratic political candidates will bring their experience to the University of Chicago's Institute of Politics as fellows for winter-spring seminars.
Robert O'Rourke, also known as "Beto," recently completed a trifecta of losses — in 2018, he lost in a Texas U.S. Senate bid against Ted Cruz, in 2020 he lost in the Democratic primaries for president, and in 2022 he lost in a gubernatorial bid against Republican Greg Abbott.
Fellow Democrat Tim Ryan knows something about losing as well — he lost to political outsider J.D. Vance to become the next Ohio senator. Ryan also dropped out of the 2020 Democratic presidential primaries.
Both were chosen for Pritzker Fellowships and will lead seminars on various topics for the Institute of Politics.
The College Fix asked Koran Addo, director of communications for the IOP, what specific criteria or qualifications led to O'Rourke and Ryan being selected or targeted for recruitment. Addo deferred to the IOP website.
"Criteria to become a Pritzker Fellow include the applicant's background in politics or public service, as well as an ability to work well with students, faculty, and the Fellows cohort," the website states. "Fellows are chosen via our online application process and through targeted recruitment."
MORE: 'Diversity of thought' event lacked conservative voices
"While on campus, Pritzker Fellows lead weekly non-credit discussion seminars on issues of local, national, and international importance," the IOP states. "These 75-minute, off-the-record sessions are student-only."
Anthony Fowler, a public policy professor at the University of Chicago, told The Fix that although "there have probably been more fellows from the political left than the right" he believes the program "gives students the opportunity to learn from and make connections with these prominent and accomplished individuals."
"Former members of Congress are not, by and large, academic scholars, and we're bringing them to campus for reasons largely unrelated to their intellectual contributions," Fowler said. "So students should not think of IOP events as substituting for their work in the classroom."
Other fellows include former Michigan Congressman Pete Meijer, a Republican who lost his primary in 2022. One of Meijer's first votes as a new congressman in 2021 was to impeach President Donald Trump.
Former Democratic Gov. Steve Sisolak, who lost his re-election bid in 2022, will also join as a fellow.
The program began in 2013 and has since hosted almost 200 fellows. Former Pritzker fellows include Anthony Blinken, the current secretary of state and a former national security advisor to President Barack Obama, Michael Morell, former acting director of the CIA under Obama, and Vox reporter Jane Coaston.
Conservative fellows have included former Illinois Congressman Peter Roskam and commentator Mary Katharine Ham.
MORE: UChicago faculty demand more cops after students killed
IMAGE: lev radin/Shutterstock
Like The College Fix on Facebook / Follow us on Twitter