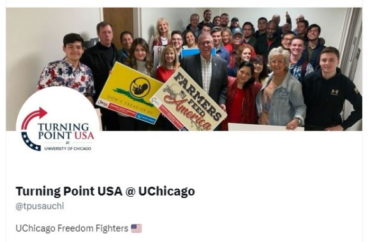 UPDATED
Civil liberties group says decision runs afoul of university's free speech principles
A University of Chicago student government committee has rejected a request for official recognition from a conservative student group, saying it is too similar to the College Republicans so the organization doesn't deserve a platform at the prestigious institution.
Turning Point USA sought official recognition from the university in December 2022, and after it was rejected, appealed the decision in the spring. That appeal was rejected too in a student-led process overseen by a committee of the Undergraduate Student Government and supported by staff from the university's Center for Leadership and Involvement.
This has caught the attention of the civil liberties group the Foundation for Individual Rights and Expression, which has accused the university of reneging on its free speech principles.
"By denying TPUSA …UChicago contravened the university's commitments and hindered the marketplace of ideas the university is obligated to protect," FIRE stated in an April 28 memo to the school.
Campus leaders responded to FIRE defending their actions. According to FIRE, UChicago argued "it can deny groups because of their similarity to other groups. The university argued there are other ways to request funds, so students do not need their groups to be recognized."
FIRE, in a June 5 news release, called on the University of Chicago to change its course.
"We urge UChicago to immediately rectify this violation and grant TPUSA recognition as a registered student organization," it stated.
Tyler Shasteen, vice president of the Turning Point USA chapter at the University of Chicago, said in a June email to The College Fix that while his group plans to appeal he is skeptical that university brass will change their minds.
That's because, he said, they still have their excuse that TPUSA is too similar to the College Republicans, but added that argument is invalid.
"I find the assertion that we are too similar to the College Republicans to be absurd, especially because the University recognizes the UCDems, Democratic Socialists of America, and Platypus (Marxist Organization) as independent RSOs," Shasteen said. "This is also clearly untrue, as the CRs refused to help us in the execution of the Darren Bailey event, despite multiple attempts to work together on behalf of TPUSA."
Shasteen is referring to a TPUSA event held in March featuring Bailey, a former Republican state legislator and gubernatorial candidate.
"We kept the location very secretive leading up to the event, only sharing it with those who we assumed would be on our side, in an attempt to prevent a possible protest or the university from shutting it down," he told The Fix via email, adding it drew a standing-room only crowd of 40 people and "was a roaring success from our point of view."
Shasteen added he and his fellow TPUSA student leader were forced to meet with an administrator on the threat of a disciplinary referral if he did not show up. At the meeting, the two students were told they could not host another event unless and until they become a registered student organization, or RSO, or gain the support of a faculty member, he said.
University of Chicago spokesperson Jeremy Manier, in a June email to The College Fix, said that it is not uncommon for a student group to not gain official recognition at first, calling it a "competitive process."
"…Turning Point USA (TPUSA) was encouraged to apply to the Student Engagement Fund as a resource for establishing themselves on campus, and to consider applying again for RSO status in the fall. TPUSA was recently awarded funds through the normal SEF process," Manier said.
"It is a highly competitive process in which the majority of applications are typically not approved, with even lower rates for first-time applicants," he said. "The committee uses best practices to evaluate the heavy demand from student groups for the limited resources available, including space, funding, and dedicated advising."
Editor's note: The article has been updated to clarify Bailey is a former state legislator.
MORE: Emerson College hit with legal complaint for silencing Turning Point USA
Like The College Fix on Facebook / Follow us on Twitter