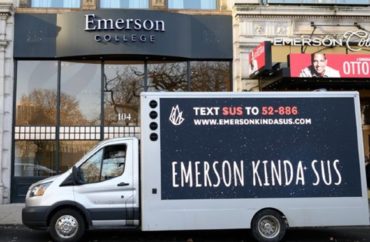 Accreditation complaint can lead to reforms, legal group says
A free speech advocacy group filed an official complaint against Emerson College for its ongoing censorship issues after multiple attempts to rectify the situation went unanswered.
The Foundation for Individual Rights and Expression told The College Fix that the New England Commission of Higher Education received the group's complaint against Emerson, a private college in Massachusetts.
FIRE has tried to seek resolutions to Emerson's censorship problem over the past year, including sending a truck (pictured) outside of a college building criticizing the school.
"NECHE will follow the commission's complaint policy, which involves getting a response from Emerson's president and then a consideration of the complaint by the commission at its next meeting in the coming months," Graham Piro, a campus rights advocacy officer for FIRE, told The Fix via email.
The complaint alleged that for "the past 14 months, Emerson administrators have repeatedly chilled student expression on campus by singling out a student organization, Turning Point USA (TPUSA), and its members, in violation of Emerson's clear promises of free expression."
Emerson officials, according to their own policies, say the First Amendment is of high importance and assure students they have the "right to participate in the open exchange of ideas and freedom of expression,'" the complaint stated.
But campus officials censored and canceled the campus TPUSA group for handing out stickers that criticized the Chinese Communist Party, not Chinese people themselves.
The sticker included a photo from a popular online game called "Among Us," where players try to guess who the enemy is. The phrase "China kinda sus" refers the Communist leaders of the country being "suspicious" or "suspect."
There is precedent for an accreditor applying pressure on a university to reform its policies, according to Piro.
"For example, the Higher Learning Commission put Southwest Baptist University on probation for failing to be 'committed to academic freedom and freedom of expression in the pursuit of truth in teaching and learning,'" he told The Fix. "The Middle States Commission on Higher Education also investigated Mount St. Mary's University in 2016 for the school's alleged breach of commission standards regarding leadership and governance, integrity, student admissions and retention, and faculty."
Neither the accreditor, NECHE, nor Michelle Gaseau, Emerson's director of communications and media, responded to two requests for comment from The Fix about the complaint.
MORE: University reforms policies after libertarian group advocacy
IMAGE: FIRE
Like The College Fix on Facebook / Follow us on Twitter