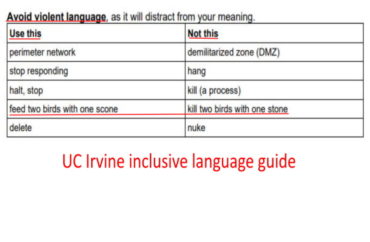 Advice is meant to help employees 'avoid violent language'
The old adage that it's better to "kill two birds with one stone" is an example of "violent language" that should be avoided, according to a University of California Irvine inclusive language guide.
Instead, the guide suggests employees use "feed two birds with one scone."
That's one guideline spelled out in the UC Irvine inclusive language guide to help its Office of Information Technology staff stay committed to "equity, diversity, and inclusion."
Influenced by Microsoft, Google and Apple's various inclusivity guides, UC Irvine's guide states it is meant to encourage mindfulness in documentation, codebase and discussions.
"The Office of Information Technology created this guide for its staff to encourage the use of gender-neutral and inclusive language," said Tom Vasich, a spokesperson for UC Irvine, in an email to The College Fix.
It was released in April 2021 but came under fire more recently in a Dec. 27 op-ed in The Wall Street Journal that chided it for its "banalities."
The guide favors gender-neutral terms such as "folks," "team" and "y'all" instead of saying "guys" or "gals." Words with an iteration of "man," such as "mankind" or "right-hand man," are also to be avoided.
The guide instructs staff to use the preferred pronouns of a real-world person if writing about them. They are encouraged to add their own preferred pronouns to their email signature line.
Employees are warned about recognizing the history behind some of the words and terms and their "connotations." Instead of "native feature" they're asked to use "built-in feature" and instead of "master/slave" it's advised to use "primary/secondary."
Furthermore, the guide instructs users to avoid slang and idioms that "confuse or detract" from the message. For example use "thoughtless" instead of "tone deaf."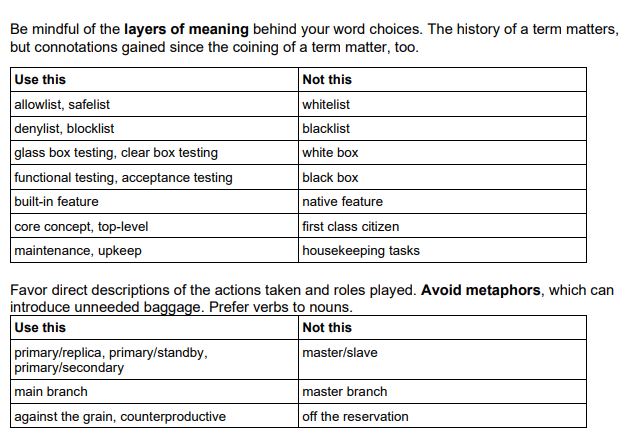 The Wall Street Journal opinion piece that highlighted the guide was written by Lance Morrow, a senior fellow at the Ethics and Public Policy Center.
"[T]he guide offers this advice: 'Avoid metaphors, which can introduce unneeded baggage.' Needless to say, 'baggage' is not meant literally," Morrow wrote.
"The guide grows briefly playful when pondering the potential harm of metaphors and considers, as an example, the 'baggage' that comes with the cliché about 'killing two birds with one stone' —a hurtful image that might trigger the darlings. The authors propose, instead, that you say, 'Feed two birds with one scone.'"
While the guide is not an outright mandate, it indicates that employees are expected to comply.
"Wherever possible, start using better terms immediately. Set aside time in your schedule to make the changes where effort is required," the guide states. "Be forgiving to others as we all work to break old habits and form new ones."
MORE: UMich's IT department told to stop using word 'picnic,' it could 'harm morale'
IMAGE: UCI language guide screenshots
Like The College Fix on Facebook / Follow us on Twitter