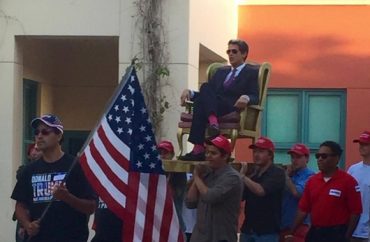 'We want nothing less than a resolution by the University of California Regents to condemn rampant discrimination against conservative students'
UC Irvine administrators on Thursday reinstated the College Republicans' right to rent space on campus, overturning a previous ban that club members described as tantamount to a suspension.
The sanction was handed down because the group failed to provide proof of insurance for Milo Yiannopoulos' private security firm for his June 2 "Dangerous Faggot Tour" visit.
College Republicans said administrators never asked for the insurance prior to the event, and only sanctioned the club after they learned it wanted to bring Yiannopoulos back to campus this fall.
A statement released by the school stated:
Earlier this week, the College Republicans at UCI were notified by the Student Center & Event Services management that they could not hold events until Spring Quarter 2017 in the areas operated by the Student Center. The decision was based on an insurance-related policy violation, and the group was invited to submit an appeal to the Vice Chancellor of Student Affairs by July 1.

… Today, the group's access to the Student Center facilities and areas was reinstated pending the appeal. A final determination regarding the policy violation will be made as soon as possible, upon review of all pertinent information.
But in response, the College Republicans at UC Irvine — which accused the administration of blatantly discriminating against conservatives on campus in this instance and others — want more than a provisional reinstatement. Much more.
"We want nothing less than a resolution by the University of California Regents to condemn rampant discrimination against conservative students," the group stated in response. "This discriminatory behavior has been going on for far too long and it needs to be put to an end."
"It is time for a group to stand up to fight for the rights of conservative students constantly suppressed by administrations across the UC system. We are that group. We will under no circumstances be submitting an appeal for the decision by UCI as that would be an admittance to a wrongdoing we did not commit. We will not be silenced and we will not be stopped."
MORE: UCI College Republicans vow fight: 'We will not be silenced'
Like The College Fix on Facebook / Follow us on Twitter