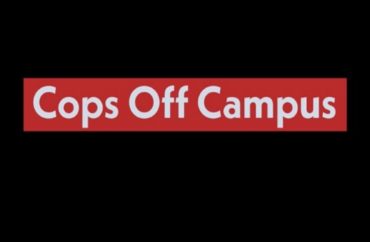 An effort underway at UCLA led by a faculty coalition is calling for administrators to defund and abolish police activity on campus.
The faculty group calls itself the "DIVEST/INVEST UCLA Faculty Collective." Members state on their website their goal is "divestment from the police state and investing in reparative public goods towards the horizon of abolition."
The collective was launched in June after the Los Angeles Police Department used UCLA's Jackie Robinson Stadium as a field jail for detainees from the LA-based protests and riots that engulfed the city at the time.
Since then, its faculty members, alongside LA-based community organizers, have continued to lobby and pressure campus leaders to defund and abolish campus policing, including through writing letters, issuing demands, and hosting protests and other events over the last six months.
"We maintain that divestment from policing is the most direct and effective way to achieve a thriving space for Black life and Black studies and a meaningful agenda for generative campus life for Black, Brown, and Indigenous people at UCLA and in Los Angeles," the group stated in a July letter to Chancellor Gene Block.
This is what we mean when we say #DivestInvest https://t.co/heCqfrG83S

— DIVEST/INVEST – #CopsOffCampus (@divestucla) January 8, 2021
In October, the collective co-hosted a "UCLA Cops Off Campus Rally."
In November, the collective co-hosted alongside Black Lives Matter LA a "remembrance" of the Jackie Robinson Stadium being used as a field jail for detainees. Activists continue to blame UCLA officials for that although Block has said he did not approve of the field being used in that way.
The faculty collective in December released a series of three video montages of the "remembrance" event. One, titled "Prisoners Made Here," captured how protesters and detainees returned to the field to "reclaim the space." At one point participants laid down mosaic tiles with handcuff images and messages such as "Black Lives Matter" and similar themes.
In a second video titled "We Keep Each Other Safe," UCLA student government President Naomi Riley is quoted as saying at the event: "The police don't keep us safe. When I am walking around campus at night, I call my friends, I call my partner. Never, does it ever, cross my mind to call the police."
One of the five key demands the faculty collective has lodged calls for UCLA to host a public hearing featuring those detained at Jackie Robinson Stadium and establish a "compensation fund" for them.
Another of its demands is to "Defund the UCPD and replace it with anti-carceral forms of accountability, including restorative and transformative justice and community-led public safety."
An op-ed penned by the faculty collective and published in the Daily Bruin last month also reiterated the group's concerns: "By continuing to invest in policing, UCLA chooses to ignore the community that is its students."
Faculty collective members did not respond to requests from The College Fix seeking comment.
Among those sought for comment are Professor Ananya Roy, founding director of the UCLA Luskin Institute on Inequality and Democracy, which houses the collective's repository of information.
Marisa Lemorande, deputy director of the UCLA Luskin Institute on Inequality and Democracy, also did not respond. Nor did Vania Sciolini, its events and programs manager, and Justin McBride, its graduate student researcher.
MORE: Nearly 100% of Democratic college students support defunding police: poll
Like The College Fix on Facebook / Follow us on Twitter