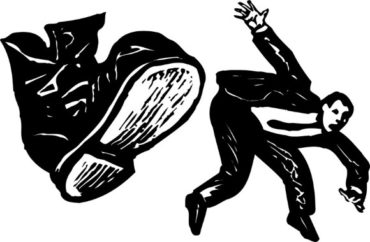 A conservative professor at UCLA wildly popular with students has been terminated after he failed an employment review he claims his department rigged against him in an effort to oust him.
Dean of Social Sciences Laura Gomez told Keith Fink, an attorney and a free speech defender who's been critical of UCLA for denying students' free speech rights, in a letter he wouldn't be appointed as a continuing lecturer. She wrote that Fink's review found his "teaching does not meet the standard of excellence." UCLA's ousting of Fink was first reported by The Daily Wire.
The university's decision ends a months-long saga between the UCLA administration and Fink, who said his superiors blocked students from taking his free speech courses and put him through a "star chamber" review process because they don't like his right-of-center politics.
In a statement to The College Fix, Fink's teaching assistant Andrew Litt said "this outcome is entirely politically-motivated" by Fink's superiors and others at the university "who do not like his message on issues [such] as free speech and due process which UCLA routinely flout."
"His termination is an injustice to the students and the taxpayers of the state, a threat to all teachers and academic freedom and a slap in the face to the notion of due process and fundamental fairness. He will not give up the fight here based on principle," Litt continued.
A spokesman with UCLA told The College Fix via email Wednesday that Fink will no longer be a lecturer at the institution as of June 30, and the communications department "has thanked Mr. Fink for his service and has wished him well in the future." He said the university couldn't comment further on the review because it's a personnel matter.
The fate of Fink's lecturer position was left in the hands of Dean Gomez, who Fink listed as someone who could be biased against him in his review process. Gomez was tapped as the decision maker after a vote by a group of faculty was split on whether Fink should pass the mandatory "Excellence Review" in early May.
In his candidate response for his review, Fink said new leadership within the communication studies department created problems for him.
"My support within the Department inexplicably took a turn for the worse after the appointment of Kerri Johnson and Greg Bryant to Chair and Vice Chair, respectively, last year," Fink wrote.
Earlier this year, Fink alleged Johnson effectively blocked students from taking his "Sex, Politics, and Race: Free Speech on Campus" course by putting a cap on the number of students enrolled. That left dozens of frustrated students unable to take a course held in a lecture hall with numerous empty seats.
Johnson said the issue was about ensuring "reasonable class sizes across the major," but Fink asserted that was hogwash.
Tensions between Fink and his department escalated as his excellence review got underway. Fink said his superiors impeded his opportunity for a fair and impartial review, namely by restricting his ability to solicit student reviews and by having Bryant evaluate his class. Both Johnson and Bryant were allowed to vote on Fink's review.
Fink said Johnson told him he couldn't solicit his own reviews, only later to be corrected after Fink reached out about what he referred to as a "flat-out lie."
"Then, despite timely submitting a list of names from whom the Department could solicit letters, I later discovered that not a single one of these students had been solicited to write a letter," Fink said in his candidate response.
He also alleged the choice of Bryant to evaluate his class highlighted the unfair review process.
"The selection of Bryant —a person that I deemed biased at the outset of the Excellence Review process—to conduct my classroom evaluation is the most telling sign that Johnson will use any means she can in an attempt to rig my Excellence Review," he wrote.
Bryant's evaluation mentioned "highly defensive" comments and a "combative and provocative tone" from Fink. The professor pushed back on both those claims, saying the evaluation was "riddled with falsehoods and distorted facts."
While Fink felt his colleagues were targeting him for removal, he did find support from his students. Campus Reform reported that Fink's allies held a protest in support of him. The event's organizer, Mick Mathis, said Fink "positively touched the lives of thousands of Bruins."
An op-ed in the Daily Bruin written by one of Fink's students, Daniel Tran, urged fellow UCLA students to defend Fink. Additionally, an online petition to keep Fink at UCLA garnered thousands of signatures.
However, Campus Reform reported last month "thousands of signatures mysteriously disappeared" from the petition and Fink said he thought UCLA could have been behind the missing signatures.
Despite his termination, Fink said he doesn't plan to back down from fighting the UCLA administration. He told The Daily Wire he's "establishing a non-profit that will provide free legal services for UCLA students and teachers whose rights have been violated."
MORE: An inside look at the 'Free Speech' class UCLA blocked students from taking
Like The College Fix on Facebook / Follow us on Twitter
IMAGE: Shutterstock