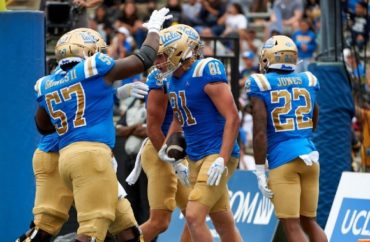 California travel ban law complicates UCLA's move to Big Ten
Sports teams for the University of California Los Angeles will reportedly use private funds to travel to states that have laws deemed discriminatory against LGBT individuals, according to officials.
Private funds are needed when UCLA officially moves to the Big Ten Conference in 2024 due to a California law that prohibits state funds from being used to travel to states with socially conservative policies on homosexuality and transgenderism.
AB 1887 prohibits "state funded travel to a state" that has "passed a law that (1) authorizes discrimination based on sexual orientation, gender identity and gender expression, or (2) voids or repeals existing state or local protections against such discrimination," according to a legal analysis of the bill on UCLA's website.
The University of California Board of Regents approved the conference move at its last meeting.
"Should UCLA compete or recruit in a banned state, in compliance with the law, none of the costs for travel to that state will come from state funds," UCLA sports spokesperson Scott Markley told The College Fix.
UCLA's athletic department currently is $100 million in debt, according to the Daily Bruin.
He added that "student-athletes and staff will receive education about the relevant California law, the law at issue in the destination state and [will be ] given the choice to opt out of the travel with no risk of consequence."
The Fix emailed Markley on January 12 and asked for further details on the fundraising amounts and how the money would be raised. He did not respond.
California's attorney general said it is "up to each" entity to decide how to "comply" with the legislation.
"Under AB 1887, our role is to develop, maintain, and post on our website a current list of states that are subject to the restrictions," the attorney general's office told The Fix. "The law's restrictions only apply to state-funded or state-sponsored travel. It's ultimately up to each California agency to make determinations about the steps they'll need to take to comply with AB 1887."
Current states on the travel ban list include Indiana, Iowa and Ohio. These three states host four Big Ten universities total – Purdue University, Indiana University, University of Iowa and Ohio State University.
The Wall Street Journal's James Freeman previously questioned the use of private funds to get around the law.
"It must be nice running a government institution and being free to create an alternative private funding source when compliance with government rules is too onerous," Freeman wrote. "As for the ability to opt out of the games in banned states, can a football coach on the bubble really choose not to show up when his team plays Ohio State?"
The governor's office deferred questions to the University of California system. Governor Gavin Newsom has previously exempted himself from compliance with the law, traveling with state-funded security to vacation in Montana, as reported by Cal Matters.
The Big Ten Conference did not respond to questions about the law sent by The College Fix in the past week and a half.
MORE: Penn swim team is 'all female again'
IMAGE: Don Liebig/UCLA
Like The College Fix on Facebook / Follow us on Twitter