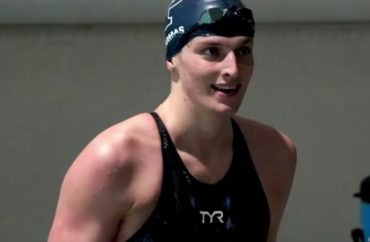 Lia Thomas graduated in May
When the University of Pennsylvania women's swim team kicked off its season this semester, it was without one of its best weapons – Lia Thomas.
Thomas previously competed against men in collegiate swimming competitions before switching to female NCAA meets. The Penn swimmer took drugs to suppress testosterone for one year, clearing the NCAA bar to compete against women.
Thomas dominated women's swimming competitions, such as at last year's University of Akron Zippy Invitational. But Thomas, who graduated in May, was of course not around for the same invite last week.
This year, during a swim season that began in September, "seven collegiate swim teams, male and female, competed against each other in the annual NCAA swim meet," Christopher Tremoglie wrote in a December 7 op-ed for the Washington Examiner. "But unlike a year ago, there weren't any men competing as women," the former College Fix contributor and Penn graduate noted.
"As the best man in a pool full of women, Thomas swam to All-Ivy and All-American honors in women's swimming," Tremoglie continued. "The incident catapulted the Ivy League school's female swim team into the national spotlight."
"However, this year, the Penn women's swimming team is all-female again," Tremoglie wrote.
However, Tremoglie wrote that transgender ideology allowing biological men to compete as women is here to stay, so we ought to "expect more Lia Thomases."
"One can be sympathetic to transgender people yet realize they do not deserve special treatment and are not entitled to take opportunities away from others because of how they identify," Tremoglie argued.
"We should strive for equality, and that means making things fair for everyone," he stated. "A man can identify as a girl as much as he wants to, but in an athletic competition, he should compete against his fellow biological men."
MORE: Lia Thomas nominated for NCAA Woman of the Year
IMAGE: Good Morning America/YouTube
Like The College Fix on Facebook / Follow us on Twitter