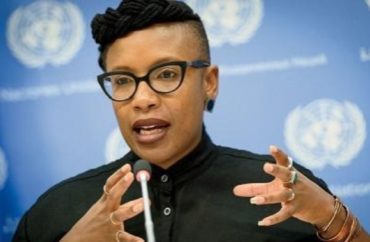 America First Legal wants to know what advice a UCLA law professor is giving the State Department
America First Legal filed a state lawsuit against the University of California, Los Angeles to force it to turn over public records.
The legal foundation, started by former Trump advisor Stephen Miller, wants to learn more about the advice that Professor E. Tendayia Achiume (right) has given the Department of State and President Joe Biden's administration about racism and policing.
It asked UCLA for "all communications between Professor Achiume and certain government employees" and "records related to Secretary [Anthony] Blinken's invitation to Professor Achiume."
The legal nonprofit wants "records related to any investigation, analysis or work product Professor Achiume prepared regarding racism in the United States" as well as "Communications between UCLA officials and specific groups (such as Black Lives Matter and the ACLU)."
The legal foundation told The College Fix why it wants these documents.
"This professor had previously called for the UN to 'Establish a Commission of Inquiry on Systemic Racism and Law Enforcement in the United States,'" America First Legal told The Fix via email on March 17. "[S]oon after the beginning of the Biden Administration…Secretary of State [Anthony Blinken] invited her and other UN officials to effectively do just that."
"This suggests coordination between anti-American radicals and the Biden Administration occurs at the highest levels, and the American people deserve to know," AFL's legal team told The Fix through a media representative.
Professor Achiume works for the United Nations as the Special Rapporteur on Contemporary Forms of Racism, Racial Discrimination, Xenophobia and Related Intolerance.
"UCLA has argued, without legal basis, that the emails of its professors are not 'public records' and that to the extent they are, they're exempted from disclosure," America First Legal told The Fix.
AFL says real academic freedom seeks out 'the public eye'
The conservative legal group said that their request does not harm the professor's academic freedom.
"The truest form of 'academic freedom' is publicly stating an idea and welcoming, even inviting criticism, critique, and engaging in debate," the group told The Fix. "Academic freedom doesn't hide from the public eye, it seeks it out."
"There is nothing noble about what UCLA is doing here—they are allowing a professor they pay hundreds of thousands of dollars to write a 'report' that the left will use to further undermine trust in institutions in America," the legal team said.
Nor would executive privilege potentially protect these documents.
America First Legal stated:
The Secretary of State has invited her to write a report about how American policing is inherently racist, and while that seems to be a priority of this Administration, she's not interacting with or advising the president in any meaningful or legal way that would protect these records. While it is not apparent that the President personally initiated the invitation, Americans deserve to know which of his advisors, or other politically appointed officials, urged the Secretary of State to extend this invitation.
The public university did not respond to questions from The Fix.
"UCLA is committed to complying with public records laws," UCLA spokesperson Bill Kisliuk told The College Fix. "As a general practice, UCLA does not comment on pending litigation."
Professor Achiume did not respond to a media inquiry sent in the past two weeks that asked if she believes her records should be released and for more details on her advice to the State Department.
MORE: Court rules public colleges can't hide fundraising requests from FOIA
IMAGE: UCLA Law School
Like The College Fix on Facebook / Follow us on Twitter