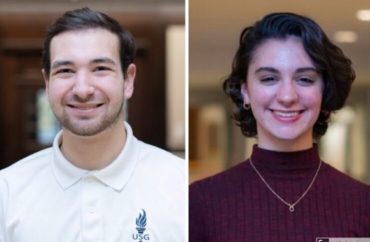 One of them pressures other whites to resign as well
Kent Brockman has said it before and he'll say it again: "Democracy simply doesn't work."
It's a view also embraced by the president and vice president of the University of Connecticut's Undergraduate Student Government, who spurned the students who voted for them four months ago by resigning their elected positions.
Their rationale is both ludicrous and probably genuine: White people shouldn't lead.
VP Alex Ose was the first to go last week, according to The Daily Campus. She cited "the climate and incidents of racial injustice across the country and at the university" without elaborating on what's wrong at UConn (or why she can't address the perceived problem as an elected official):
I feel that it is my duty to step down from my position to make space for BIPOC (black, indigineous and people of color) voices to truly rise and be heard. It is my responsibility to make space, not to create an echo.
Ose is also pressuring the remaining white members of the student government to resign, asking them to consider their "intent" in student leadership (to lead?) and whether they "truly" believe "they are making space for the voices that need to be heard right now" – the aforementioned BIPOCs.
President Joshua Crow didn't go that far when he announced his own resignation prompted by white guilt two days later.
"It is important in this time to ensure that marginalized groups have the platforms they need," he said, according to The Daily Campus. (Their paralyzing white guilt makes a little more sense when you consider that Crow and Ose beat a nonwhite ticket, Jase Valle and Guymara Manigat.)
Crow's temporary replacement is … another white guy, Will Schad. But don't worry! Schad's whiteness won't pollute the student government for much longer, at least as president.
At a Thursday town hall to "address racism within" the student government, as the Daily put it without a hint of bias, Schad emphasized he didn't want the job and would schedule elections as soon as possible. Remember, elections were four months ago and students made their choices:
"This was never a job that I had my eyes on, but I'm going to be as committed to the students as possible and as committed to starting to solve issues of racial bias and injustice and as well as elitism, as I can be," Schad said.

Schad also talked about his experience in working toward diversity and inclusion while in his position as speaker of the Senate. While in his former position, he said he was pushing for mandatory bias training, election reform, bias control policies within USG as well as advocating for greater access to resources for BIPOC students, such as mental health services.
MORE: Incoming student president under fire for pro-police march
You won't believe what prompted this town hall and another hosted by Ose and Crow, whose feedback apparently prompted their race-based resignations.
Some students – whose privilege enables them to take offense at everything – had complained about a student government survey that asked undergraduates to anonymously share their own experiences of discrimination, from "microaggressions" to "Islamophobia." It was crafted by the "Multi-Cultural and Diversity" senators.
Any reasonable person – i.e., not a UConn racial activist – would scratch their head at why students would criticize rather than thank their elected leaders for inviting their feedback.
You see, the perpetually aggrieved Huskies accused the student government of … survey appropriation, I guess you'd call it?
There were multiple comments under the [Instagram] post [sharing the survey] from students who said the survey was tone-deaf and that it seemed like the page was plagiarizing the idea from student-run anonymous social media accounts like Black at UConn.

"Why do you need surveys to know racism is wrong, you're not amplifying anyone's voice, you're colonizing them," one person commented.
Indeed, an hour after the post went up, the Black at UConn Instagram account shared an anonymous testimonial that called the student government "despicable" because "your Black and Latinx members are often talked over, looked past and not valued." (The only example of this supposed oppression? A wonky dispute over compensating members of the executive board, which was mostly nonwhite when the compensation rule took effect.)
Though the student government quickly apologized for asking for student feedback without the sufficient wokeness, it didn't really matter. Crow already declared at his town hall that UConn was an "inherently racist institution," and several attendees flat-out said any executive board that was not majority nonwhite was illegitimate.
It would be nice to see student leaders of any color emphasize that skin color is not destiny, and that blacks can capably represent whites and vice versa. Sadly, don't expect to see such leadership anytime soon at UConn.
MORE: Student government removes president for privately stating Catholic doctrine
IMAGE: UConn Undergraduate Student Government
Like The College Fix on Facebook / Follow us on Twitter