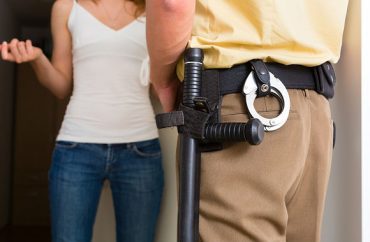 UPDATED
In loco parentis, to the extreme
The University of California-Santa Barbara urged students to help it "mitigate the spread of COVID-19 in our community" on Tuesday.
According to at least two students who received the email, the taxpayer-funded institution asked them to report students who were having parties that could spread the novel coronavirus.
Former New York Times reporter and COVID-19 contrarian Alex Berenson posted the first part of an email from the Office of the Vice Chancellor for Student Affairs, saying he received it from a UCSB grad student.
Titled "COVID-19 Cases Increasing in Isla Vista," a neighboring community where many students live, the email says the university "urgently need[s] your help" as cases rise:
Over the holiday weekend a concerned citizen notified authorities about a report they received concerning a "COVID Party" hosted at a private residence in Isla Vista. If you or someone you know has knowledge or …
This is where the screenshot cuts off. The rest of the email is not visible.
Andrea Estrada, director of news and media relations for UCSB, ignored two requests to share the full email with The College Fix. She did not answer whether it was encouraging students to report each other for hosting parties, and if so, the grounds for investigation under UCSB policies.
"The message from the vice chancellor for student affairs stated that we are asking for information because 'our first priority is to trace exposure and attempt to mitigate further spread, which must be done quickly,'" Estrada wrote in an email.
A @ucsantabarbara grad student forwarded this – UCSB is encouraging students to turn each other in for hosting parties. Heard something similar from a parent at another school today too, so this looks like a trend. This will definitely foster a spirit of community and freedom! pic.twitter.com/cbpgvQEvxW

— Alex Berenson (@AlexBerenson) July 8, 2020
MORE: UCSB program trains students to become dorm 'sexperts'
The student who forwarded the email to Berenson said UCSB was "openly threatening investigations" of students, who are "waking up to their lack of vulnerability [to COVID-19] and taking matters into their own hands."
A follower of Berenson's posted a screenshot from the Santa Barbara County Public Health Department's daily COVID-19 tracker for Tuesday. It said Isla Vista has had 25 confirmed COVID-19 cases since the epidemic began, apparently the lowest in the county. Santa Barbara, home to the university, has had 16 times more cases.
Another self-identified student tweeted Tuesday that the university "sent out an email asking for any info on the covid party that happened this past weekend." The student claimed to have been invited, "so I sent them the screenshot of the party invited and the names and pics of those involved in hosting it."
The student posted a Facebook event invitation that shows the physical address for the alleged July 4 party; separately posted the names and photos of alleged party organizers; and threatened to dox others who are reported to be having parties.
One of the alleged organizers of the July 4 party responded that the party didn't happen because "sadly no one showed up." He continued: "People do not take very kindly to being doxxed online."
In any case, their advertised party "was not 'the Covid' party," he continued: "this is misinformation putting my safety and privacy at risk because of a false claim."
ucsb sent out an email asking for any info on the covid party that happened this past weekend and I was invited to it so I sent them the screenshot of the party invited and the names and pics of those involved in hosting it 🥰 hope they rot !

— april Ⓥ (@april_bee_) July 8, 2020
if u or anyone has any info of people doing so i will put them on blast and call them out too !! i don't give a fuck ! but i will not put my health at risk and go out to find parties to do so, health first ❣️

— april Ⓥ (@april_bee_) July 8, 2020
MORE: UCSB cracks down on political chalking during 2016 campaign
UCSB does not appear to have posted the message on any official school channel, and student newspaper The Daily Nexus has not mentioned it as of Wednesday afternoon.
The university's COVID-19 page does not mention any similar guidance asking students to report each other for alleged violations of social distancing. A June 27 message from the office says the county health department will contact anyone thought to be in "direct close contact" with an infected person, meaning "within 6 feet of the individual while not wearing a mask for a time period of 10 minutes or longer."
Vice Chancellor for Student Affairs Margarat Klawunn has also been identified as perpetrating Title IX and due process violations in multiple lawsuits by students accused of sexual misconduct. Just last month an appeals court ordered the university to pay steep attorney's fees to a student who successfully sued it.
During the 2016 presidential campaign, she said chalk messages supporting Donald Trump and conservative causes violated content-neutral campus policies. Yet Klawunn assailed their "sexism, racism, homophobia, transphobia and intolerance" as contrary to "our commitment to maintain an inclusive and safe learning environment for every member of the UCSB community."
UPDATE: University media relations responded to a Fix query after this post was published. Its response has been added.
MORE: Appeals court orders UCSB to pay massive attorney's fees to accused student
IMAGE: Kzenon/Shutterstock
Like The College Fix on Facebook / Follow us on Twitter