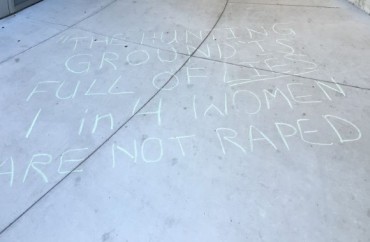 UPDATED
Provocative chalk messages that appeared this week at UC Santa Barbara have prompted administrators to crackdown on campus chalk bandits.
"Some of the messages constitute political endorsements, while others contain offensive, ignorant and hateful statements that target, provoke and divide our community. All of the messages violate campus policies on posting, which prohibit chalking regardless of content," states an emailed letter sent to the UCSB community Friday, a copy of which was obtained by The College Fix.
The memo states the messages were quickly cleaned up and a police investigation is underway "to determine those responsible for damages. In the meantime, UCPD has increased nighttime patrols on campus and are reviewing available video footage in areas with damage."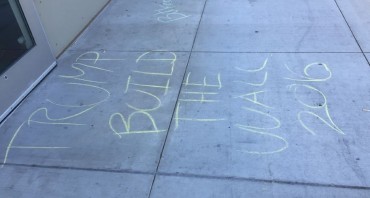 The letter alludes to some sort of damage to at least one campus building that constitutes felony vandalism, but the vast majority of incidents are simply chalks phrases drawn on campus sidewalks.
Earlier in the week the UCSB messages were simply "Trump 2016" — echoing chalkings at Emory and University of Kansas that prompted students to voice anger and concern. But new messages that appeared Thursday morning at UC Santa Barbara got a bit more provocative, a student told The College Fix on the condition of anonymity.
Some of the chalkings, the student said, trumpeted the now infamous "Trump 2016" or simply "Trump" statements, while others went further, including: Trump build a wall 2016 … but keep the tacos; there are only two genders; abortion is murder; AIDS = sodomy REPENT; currency is devalued (that was done in front of the Asian Resource Center); Obama is a Muslim Keynesyan; blue lives matter; Muhammad f**cked children; the hunting ground is full of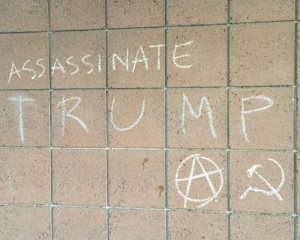 lies 1 in 4 women are not raped; Modern art is degenerate; torture Muslims; BLACK LIVES MATTER Learn Empathy, assassinate Trump and more.
Some of the chalkings have been chronicled here.
"The sexism, racism, homophobia, transphobia and intolerance contained in these messages are inconsistent with our core values and our commitment to maintain an inclusive and safe learning environment for every member of the UCSB community," stated the April 1 UCSB memo, penned by Margaret Klawunn, vice chancellor for student affairs.
"These actions undermine our sense of community and our commitment to diversity. Such hateful messages have no place in our university," she added. "Our students, staff, and faculty take pride in our collective efforts to create an atmosphere of inclusiveness. These messages degrade and distract our community and isolate those groups who are targeted."
The memo went on to cite various campus outlets for counseling and other support. The memo concluded:
For your reference, UCSB's Principles of Community state clearly: "The community requires the respectful exchange of ideas. People should be passionate about what they believe and how they express that belief, but they must also be civil in both word and deed. This principle is particularly important when a community encompasses people who have different backgrounds, worldviews, etc. This is not about political correctness; it is about basic respect – about how people treat one another, not about what people think or believe."

UCSB's campus policies protect and uphold freedom of speech. These rights also come with the responsibility to engage with one another civilly and respectfully, and in ways that support our community.
According to the public university's posting policy, "writing, posting or taping directly on sidewalks, paths or on the exterior or interior surfaces of buildings or walls with any material, including chalk, is a violation of these regulations." Punishments start at a warning, and get progressively worse, such as fines and loss of privileges, the policy adds.
Meanwhile, in other UCSB news:
Rowdy protestors disrupt talk in support of traditional marriage at UCSB
Shocking details from UCSB's divestment vote emerge: Student recounts 8 hours of Jew bashing
UCSB Student: Campus Prolife Protestors 'Domestic Terrorists'
UCSB Feminist Studies Professor Accused of Assaulting Teen Prolife Demonstrator
'F*ck your borders' – Rowdy UCSB students protest border patrol agents at campus job fair
UCSB professor warns 'Ted Cruz-Teabaggers' to leave class or go home in body bag
No word on when UCSB administrators will issue a statement vigorously defending students with conservative and pro-life views and Republican and Jewish students.
UPDATED: To include additional details on chalkings.
Like The College Fix on Facebook / Follow us on Twitter