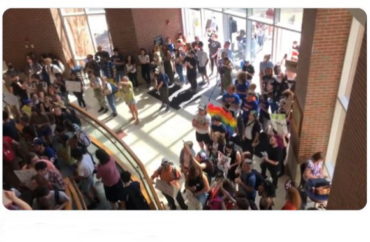 In addition to protesting, Sasse opponents engage in other tactics to derail the nomination
In response to a recent protest during which students took over a campus building, shouted and banged on doors, University of Florida has pledged to enforce a ban on indoor demonstrations as the Board of Trustees meets next week to appoint Republican Sen. Ben Sasse as president.
Current UF President Kent Fuchs stated in a letter to students that those who violate a long-standing campus regulation that "no demonstrations are permitted inside university buildings" will face disciplinary action under the Student Conduct Code.
Students from UF's Young Democratic Socialists have organized a Nov. 1 protest outside Emerson Hall, where the meeting about Sasse will take place. An Instagram post about the protest's motivation cited the senator's "anti-intellectual" views.
Fuchs' announcement was also made in the wake of a large protest on campus Oct. 10 during which students stormed a building where Sasse was holding meetings and essentially shut down the Q&A early due to the raucous demonstration (pictured).
In his statement, Fuchs cited the university's core value of freedom and civility, stating the school "affirms and embraces openness to an inclusive range of viewpoints," but that the university upholds a commitment to protect the rights of people on campus.
In addition to protesting, opponents of Sasse as president also are engaging in other tactics to derail the nomination.
The United Faculty of Florida issued a news release on Oct. 24 supporting Republican state Sen. Jeff Brandes' statements that argued campus leaders violated a Florida statute that requires a "final group of applicants" to be a part of the university's presidential search process.
Sasse is the now sole candidate, but there were other candidates prior to the process of narrowing in on Sasse.
UF student Bryn Taylor, co-president of Grad Assistants United, told The College Fix in a telephone interview she's frustrated by the lack of transparency in the finalization process of the candidates.
Sasse was the only finalist because none of the other three finalists wanted to compete publicly against the Nebraska senator, she said.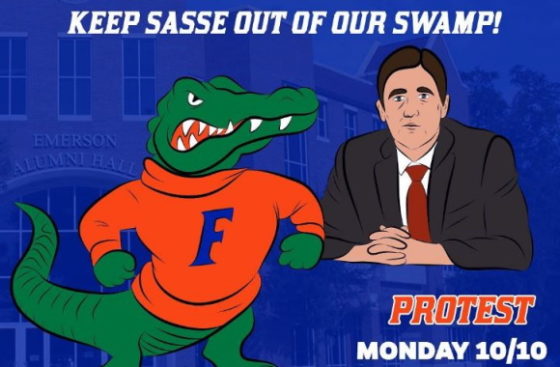 "I heard people say we want someone with academic experience, we want someone with research experience, and that is not Ben Sasse's background," she said. "They like to say that they have mechanisms for giving input and that it's most important to pick someone who is good for the UF community, yet the UF community has obviously pushed back against this choice, and they've just tried to strong-arm their way through."
According to his Senate bio, Sasse spent five years as president of Midland University prior to being elected to office.
Paul Ortiz, president of the UF division of United Faculty of Florida, wrote in a statement that "the faculty would have preferred an individual who is qualified for the position, not a political appointee," and that "this presidential 'search' violates" traditions of transparency and merit, among others.
UFF has submitted a public records request for the full list of 700 total applicants, the short list of candidates selected, and the meeting notes that discussed applicants, the group reported.
The UF Graduate Assistant Union helped organize the last protest, and the organization's co-president, Rachel Harnett, told the Tampa Bay Times that the inconvenience of a protest is "what makes them effective in many ways."
She said that students don't feel heard and that if the university is not going to create a space for them then they will make space for themselves.
Young Democratic Socialists of America Co-President Allan Frasheri told the Gainesville Sun that he has organized protests with organizations like UF College Democrats, Planned Parenthood Generation Action and the Alachua County Labor Coalition, and that he was not surprised Sasse was the only finalist.
Some students have started a petition to protest Sasse's likely appointment as UF president. The petition had 1,200 signatures as of Oct. 28 and stated Sasse's political views are "discriminatory and non-representative of our student population."
Leyka Rumalla, the UF student who started the petition, lists Sasse's past opinions on same-sex marriage laws, transgender bathrooms, and immigration as examples of why the senator has done a "poor job of representing the student body at University of Florida."
Students have also protested via the comments on UF's Instagram and have taken to platforms like Reddit and Discord to organize protests.
United Faculty of Florida, UF College Democrats, UF Young Democratic Socialists of America, and Food Justice UF did not respond to The College Fix's request for comment.
MORE: UF students storm building, shout down Q&A with Republican Sen. Ben Sasse
Like The College Fix on Facebook / Follow us on Twitter