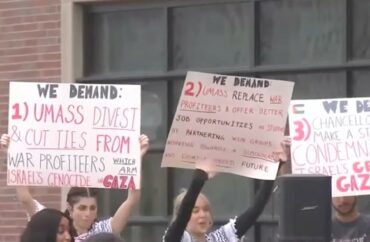 Students had demanded UMass cut ties with weapons manufacturers arming Israel 
A group of students arrested at the University of Massachusetts during a pro-Palestine sit-in on its Amherst campus last week was arraigned on trespassing charges.
The 57 students arrested appeared before a judge in groups, with the last heading to court on Tuesday, Western Mass News reported.
All students pleaded not guilty.
Many at their school have expressed support, the students told the news outlet.
"It's inspiring and it brings us hope," student and organizer Joey Biers-Browne told Western Mass News. "We know that we can win and that we will win. We have the power of the students and many of the faculty and that's something we are excited and ready to use to our advantage."
The students arraigned Tuesday were among the dozens arrested Oct. 25 during a protest in support of Palestinians amid war in the Middle East, Boston.com reported.
The protest included a march to the Whitmore Administration Building and a presentation of demands to Chancellor Javier Reyes, written by UMass Dissenters and Students for Justice in Palestine.
The students' demands included that "UMass divest and cut ties from weapons manufacturers which arm Israel's genocide in Gaza," including defense contractor Raytheon Technology, and that "UMass call for an immediate end to Israel's siege on Gaza and U.S. funding for Israel," according to the UMass Dissenters' Instagram.
The students protests were in coordination with a National Palestine Solidarity Student Walkout Day on Oct. 25, more than two weeks after Hamas' deadly attack on Israel, Western Mass News reported that day.
The UMass Amherst protesters staged an indoor sit-in at the chancellor's office, which they said would continue until their demands were met, WBUR reported. Campus police later arrested dozens for trespassing.
Following the protest, UMass Amherst issued a statement saying, "the protestors' specific demands do not align with the university's publicly stated positions and policies," and "students were given multiple verbal warnings that the building was closing at 6 p.m."
"The arrests were based on the refusal by those arrested to comply with a lawful order by UMass Police to leave the building," the school stated.
MORE: Tulane pro-Palestine protest turns violent after attempted Israeli flag-burning
IMAGE: YouTube/WesternMassNews
Like The College Fix on Facebook / Follow us on Twitter