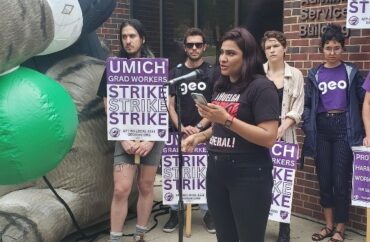 University attempts to bring graduate student instructors back to work after five months
Striking graduate student instructors risk losing their jobs if they don't return to work in the fall, the University of Michigan announced recently.
Workers from the Graduate Employees' Organization set off a labor dispute by going on strike in March, close to the end of the spring semester, the Associated Press reported Tuesday.
The union represents more than 2,000 employees, though not all participated in the strike.
Graduate student instructors still on strike when fall classes begin Aug. 28 will "likely be removed from the system as a course instructor," Provost Laurie McCauley stated in an email Monday.
"When instructors choose not to fulfill their teaching responsibilities, it disrupts students' education, damages the quality of instruction, and can cause other harm," McCauley said, according to AP. "This is a serious breach of the trust that our students place in us as educators and in their reliance on the institution to deliver on our educational mission."
The university has offered raises of eight percent and six percent spread over three years, plus $1,000 bonuses.
MORE: UMich disputes claim it 'falsified' grades due to grad worker strike
The Graduate Employees' Organization has been on strike continuously for nearly five months, the longest interval since its formation in 1974, The Detroit News reported Tuesday.
Union spokesperson Amir Fleishmann said the communication from the university was "the latest in underhanded strike tactics that the university is using to try to undercut our power."
"We feel confident that it is not going to work," Fleishmann continued.
However, university spokesperson Kim Broekenhuizen said officials are making a plan if a new contract is not reached by the beginning of the fall semester, according to the Detroit News.
"The Office of the Provost continues to work closely with the deans at each of our schools and colleges to confirm contingency instructional staffing plans that work for each of their academic communities," according to Broekenhuizen.
MORE: Higher ed workers joining unions, striking at record levels
IMAGE: Twitter/@geo3550
Like The College Fix on Facebook / Follow us on Twitter