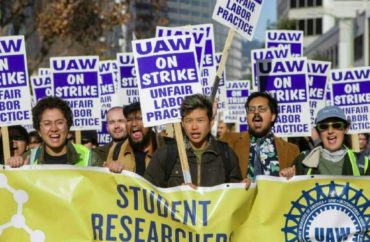 Academic workers now make up more than a quarter of the United Auto Workers
Higher education workers are rapidly gaining influence and membership share in national and international labor unions amid a historic increase in university strikes.
"Higher education has become one of the most visible and volatile fronts in the resurgence of organized labor in the US," according to a May 8 article by Director Chrissy Randall and Partner Michael Schoenfield at Brunswick, a consulting firm that advises employers on labor and other issues.
"Once limited to traditional constituencies like service, trade and craft workers in urban areas, the fastest-growing areas for union growth now include faculty and students at public and private institutions," Randall and Schoenfield wrote.
"Some 36,000 adjunct professors and other academic workers at all 10 University of California campuses demanded increased pay and benefits in a monthlong strike," The College Fix reported in December. "The workers won pay increases of between 20 and 80 percent."
The UC workers, whose strike was the largest of its kind in U.S. history, belonged to United Auto Workers Local 5810, The Guardian reported.
Contingent academic workers also went on strike at Temple University and throughout the New Jersey public university system last month. The thousands of striking New Jersey academic workers belong to three labor unions, including the American Association of University Professors and the American Federation of Teachers, The Fix reported.
In all, "there were 15 academic strikes in the U.S. in 2022, the highest number of strikes in academia in at least 20 years," according to The Guardian.
Out of 424 work stoppages – in other words, walking off the job – caused by striking unionized workers in 2022, the "majority of all workers involved in work stoppages came from the educational services industry (~135,380, or ~60%)," according to the IRL Labor Action Tracker 2022, a report put out this year by the New York State School of Industrial and Labor Relations at Cornell University.
Asked what caused the shift toward university union membership, Arthur Wheaton, director of labor studies at Cornell's ILR School, told The College Fix via email that causes such as student loan debt and issues around Covid played a role. He pointed out graduate assistants and teaching assistants did some of the teaching and a lot of face-to-face office hours, "so there are health and safety concerns."
Wheaton said the shift likely has not been due to declining labor conditions.
"I don't know if the working conditions are getting dramatically worse," Wheaton told The Fix. "I think the awareness has dramatically increased," he said, pointing to companies like Apple, Amazon and Starbucks, which have seen workers unionize in recent years.
Wheaton also credits the rise of social media.
"The message spreads like wildfire," he said.
The United Auto Workers, internationally headquartered in Detroit, now represents more graduate student workers and post-doctoral researchers than any other union, according to an April 23 article in The Detroit News.
The UAW is "one of the largest and most diverse unions in North America, with members in virtually every sector of the economy" and "more than 400,000 active members," according to its website.
"Higher education accounts for more than a quarter of UAW members," according to The Detroit News.
"A resolution passed at the union's quadrennial special bargaining convention last month calls for more resources for organizing and bargaining for student workers," The News reported April 23.
The resolution was "the higher-ed sector's announcement that it is now a major force within the union so that our bargaining and organizing priorities are also going to be now front and center on the general program and agenda of the UAW International," UAW Regional Director Brandon Mancilla and the first president of the Harvard Graduate Students' Union told The Detroit News.
Jonah Furman, a representative with the United Auto Workers, referred The College Fix to comments made by regional directors in The News.
The directors "are a good representation of where leadership is at," Furman said, referring to Mancilla and Mike Miller, a regional director and academic worker at the University of California.
Higher ed unionizing has also spread to Canada via Unifor, the largest private-sector union in the country. Kathleen O'Keefe, director of communications for Unifor, confirmed with The College Fix via email the higher education sector's involvement in the union.
O'Keefe pointed to employees at the University of New Brunswick, for example. They reached an agreement on April 11 with the university via Unifor that included "wage increases and other economic allowances, a new Racial Justice Advocate, and improvements to language," according to the union.
Colleges and universities were once considered "great employers," consultants Randall and Schoenfield stated, but that reputation has deteriorated.
"Post-COVID trends like inflation and worse working conditions and job protections – combined with heightened awareness of racial and social justice issues, declining state budgets and political interference – have made higher education institutions a hotbed for labor organizing," the consultants wrote.
MORE: Unions line up behind Harvard grad students
IMAGE: @UAW/Twitter
Like The College Fix on Facebook / Follow us on Twitter