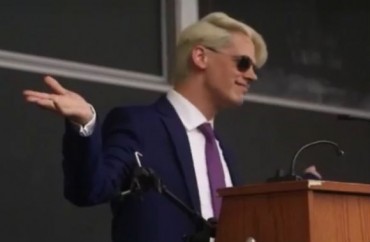 Anti-feminist Milo Yiannopoulos is slated to appear at the University of Michigan on Tuesday night, but his planned "Dangerous Faggot Tour" stop in Ann Arbor has already chagrined some students on campus who refused to help publicize his appearance and mocked an organizer for promoting the provocateur.
Student Hunter Swogger, 22, recently found he was the butt of a joke in an editorial cartoon in the mainstream campus newspaper The Michigan Daily. The cartoon depicted Swogger handing out event flyers to female students and suggested he "approaches people without permission to talk about them."
Swogger, who had in fact handed out flyers prior to the cartoon's publication, laughed it off, telling The College Fix "it's really poorly done, there's no punchline. It's pretty much just like showing some girl saving this girl from me, and calls me repugnant, and says I have backward social views."
Cartoon: Michelle Sheng. https://t.co/HEXxzUv5lt pic.twitter.com/kbPFzFJZof

— The Michigan Daily (@michigandaily) February 10, 2016
Swogger said he doesn't mind. But it wasn't the only roadblock he and other organizers have faced.
They requested the largest feminist organization on campus, Lean In, help spread word about the event, which also features feminist author Julie Bindel, who will debate Yiannopoulos on the topic: "Does Modern Feminism Have a Problem with Free Speech?" It will be moderated by U-M Women's Studies Professor Lisa Disch.
The request was denied.
"I see from the FB event that they are debating on the topic "Does Modern Feminism Have a Problem With Free Speech?", and I guess I don't really understand the topic and why this debate [is] occurring in the first place," an email from Lean In stated. "I'm not sure if this is something Lean In stands for/would feel comfortable representing on our social media …"
In the end, it wasn't.
"I want to thank you for sharing the event with us, but after talking to the board we have decided that 'Milo's Dangerous Faggot Tour 2016' is not an event that U of M Lean In would like to promote," stated an email obtained by The College Fix.
RELATED: Blood paint and vandalism greet anti-feminist troll Milo Yiannopoulos at Rutgers
For Swogger, a libertarian who is co-organizing the event along with other editors from the independent campus publication The Michigan Review, he said he doesn't agree with everything Yiannopoulos says either, but the point is to promote free speech and open debate on campus.
As MLive reports, "Yiannopoulos has been critical of a perceived rape culture, going as far as to compare the concept to fictional character Harry Potter as they are both fantasy in his opinion. Bindel has argued against the rights of transgender women saying they don't belong in women's only spaces."
The very same Bindel-Yiannopoulos debate had been banned last fall from a UK university, and Swogger said he and his peers wanted to re-create it at the University of Michigan.
"I don't really agree with either of them, that's not the point," Swogger, executive editor of The Michigan Review, told The College Fix. "This is the kind of event that riles people up to the point where they want to ban people. Nothing is more absurd to me than banning people from speaking at public universities."
But organizers have faced other censorship.
The Michigan Review made a promo video asking students on campus recently: "Would you rather your child had feminism or cancer?" the famous poll question that helped get Yiannopoulos briefly kicked off of Twitter. On Saturday, Facebook denied their request to buy advertising for the video, with the company saying it does not "allow ads that refer to the viewer's attributes."
"Of course, anyone who has actually watched the whole video knows that it does not do anything of the sort, and that there is no reason to ban us from promoting it except for on ideological/having-no-sense-of-humor grounds," student organizers responded on Facebook. "On a related note, we are hosting a debate about censorship in 3 days."
Organizers stand behind their decision to host Yiannopoulos.
"He says things that are definitely inflammatory, but contain a kernel of truth," student co-organizer Deion Kathawa told Inside Higher Ed. 
And Omar Mahmood, editor-in-chief of The Michigan Review, told MLive that "I expect a lively, entertaining debate between very popular, provocative activist and journalists."
"This promises to incite, along with a lot of hurt feelings and hopefully some critical thinking as well," Mahmood said. "They make no attempt to hide that."
RELATED: An open letter to feminist students (from a guy who shoots straight)
Like The College Fix on Facebook / Follow us on Twitter
Editor's Note: Organizers of the debate have written for The College Fix.