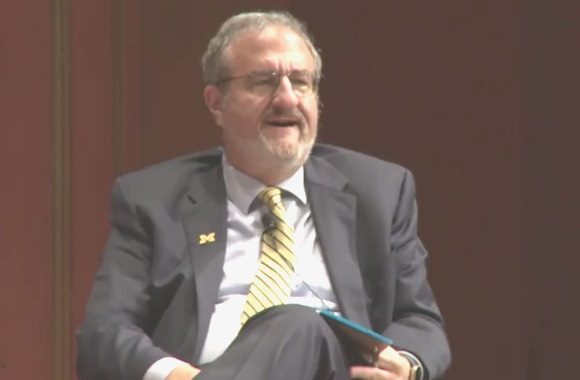 'A lot of money invested in the diversity infrastructure'
The University of Michigan needs more time to respond to "the mistaken factual and legal premises" in a First and Fourteenth Amendment lawsuit challenging its bias response team, it told a federal judge earlier this month.
Speech First sought a preliminary injunction to stop UMich officials from enforcing its harassment and bullying policies, and its bias response team from addressing reports of "bias incidents," while the lawsuit proceeds on behalf of three unidentified UMich students.
The nonprofit membership association refused to voluntarily give UMich more than 30 days to respond, so the public university asked the judge to let it file a fleshed-out answer through June 25.
It didn't work: The judge gave the university until June 15. Speech First's response is due June 29.
A bias incident is anything that "discriminates, stereotypes, excludes, harasses or harms anyone in our community based on their identity." UMich tells students to use "your own feelings" to decide what constitutes a bias incident and then report it.
Speech First President Nicole Neily told The College Fix she's not surprised the university is stalling. "The university has a lot of money invested in the diversity infrastructure … they don't want to do that."
UMich employs 93 full-time "diversity, equity, and inclusion bureaucrats," more than a quarter earning $100,000 to nearly $400,000 and more than half at least $75,000, according to American Enterprise Institute scholar and UM-Flint economist Mark Perry.
This adds up to $11 million between salaries and benefits, Perry said on his blog.
University of Michigan's Small Army of Nearly 100 Diversity Bureaucrats at an Annual Cost of $11M = Full tuition for 765 Students. pic.twitter.com/kvYFlJY4Y0

— Mark J. Perry (@Mark_J_Perry) May 20, 2018
'Freedom of speech is a bedrock principle of our community'
The taxpayer-funded university has faced sustained criticism for political intolerance since the 2016 election, when President Mark Schlissel (above) suggested that students who voted for Donald Trump were advocating "hate" (below).
Schlissel's remarks were cited in Speech First's lawsuit as evidence that students who express conservative views can be investigated for bias. The bias response team received 164 incident reports from the campus community between April 20, 2017, and May 5, 2018, according to its bias incident report log.
UMich sought to counteract Speech First's portrayal with a "Free Speech on Campus" portal that includes its history of actions on free speech and response to Speech First, as well as links to speech-related policies and statements and campus support resources.
"Freedom of speech is a bedrock principle of our community and essential to our core educational mission as a university– it is reflected in our history, policies and practices," it reads, citing the university's Standard Practice Guide. It says "expression of diverse points of view" is also important "for those who hear and pass judgment" on views they disagree with. Even finding a viewpoint "detestable cannot be grounds for its suppression."
Further down, it says the bias response team is "just one resource to help us achieve our goal of creating an inclusive, respectful and welcoming environment, where all voices can be heard."
Though this four-paragraph statement on free speech is dated May 2018, Associate Director of Public Affairs Kim Broekhuizen told The Fix the page was created last fall. It does not show up in Web archiving engines. Broekhuizen said the school can't comment on the case because of the ongoing litigation.
You're missing the 'true vibrancy of debate and discussion'
The university's motion for an extension of time to respond criticizes Speech First for not "first approaching the University to discuss its concerns."
Referring to the plaintiff's stated desire to get a ruling on UMich policies from the 6th U.S. Circuit Court of Appeals before classes start this fall, UMich asked why Speech First didn't file suit "weeks, months or even years before it did so." (Speech First was founded less than three months ago.)
The group has "mischaracterized its policies and programs and how they have been applied, and has painted a picture of the University that does not reflect the true vibrancy of debate and discussion on campus," the university wrote.
It said it has already assured the student lead plaintiffs that they will not be subject to disciplinary action for expressing their opinions: "There is … nothing in the University's policies that inhibits these unnamed students from engaging in any such discussions."
Neily believes a difference exists between what the school is saying and how it is acting.
The stigma of going through a bias response hearing is stressful and disincentivizes students from engaging in any conversation that might get them investigated, she said.
Neily told The Fix she talked to other students who are not plaintiffs in the complaint but expressed concern about sharing certain viewpoints. Some of them lock their door when they talk politics on campus because they don't want their conversation to be overheard, Neily said.
"The fact that students are not even able to have civil discussions is very telling," Neily said.
Speech First wants to have some of this settled before students go back to school in September. "We would like to send a message saying these policies are really un-American and have no place on college campuses," Neily said.
'Universities end up casting a wide net' and go beyond 'harassment'
UMich is just one of 231 public and private colleges with bias response teams as of 2017, affecting 2.84 million students, according to the Foundation for Individual Rights in Education.
Adam Steinbaugh, FIRE's senior investigative reporter, believes the increase in bias response teams stems from schools taking an interest in hearing about their students' experiences and not having clear policies on harassment.
He told The Fix that universities are put in a difficult situation because they are lawfully required to respond to incidents of harassment and unprotected speech, but it is difficult to find actual harassment.
"Universities end up casting a wide net" with vague definitions of bias, asking students to "'tell us about any situation you encounter and we will sort out the details,'" which sweeps up protected speech as well, Steinbaugh said.
The presence of law enforcement on administrative entities that review the content of speech also concerns Steinbaugh. According to FIRE, 42 percent of bias response teams include law enforcement personnel or campus security.
Their widespread presence on campus says more about the legal liability colleges face than about students, he said.
MORE: Trump voters at risk from University of Michigan's bias response team
Like The College Fix on Facebook / Follow us on Twitter