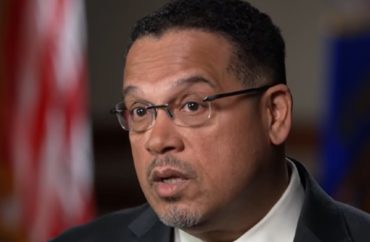 The aim is to 'establish a home for gun violence prevention litigation'
The University of Minnesota Law School has created a clinic to target lawful gun manufacturers by training future litigators and filing lawsuits.
The new clinic, which opened this semester, will "utilize student pro bono legal work to support and litigate cases that help reduce injuries, deaths, and trauma resulting from gun violence," according to a university announcement.
It will partner with Democratic Attorney General Keith Ellison, who had a record of opposing gun rights while serving in Congress.
The new clinic will "spur law school and law student engagement in firearms law and the Second Amendment," "establish a home for gun violence prevention litigation in the Great Lakes area" and "grow the pool of litigation expertise and legal resources available for Second Amendment and gun violence prevention matters."
The College Fix reached out to clinic director Megan Walsh and asked her if the clinic has an institutional stance against the Second Amendment and why legal gun manufacturers are being targeted. She did not respond to an inquiry sent a week ago.
She stated in the university's news release that "there are not enough litigators with expertise in the field, and law schools and legal scholars are under engaged in Second Amendment issues."
The Fix also asked Mark Cohen, the law school's communications director, for more information on the law clinic and specifically if there are any concerns about using taxpayer money to take a stance on the Second Amendment. He has not responded to an inquiry sent in the past three weeks.
The clinic will partner with Attorney General Ellison (pictured) to find "creative" ways to "address gun violence problems" in Minnesota, Professor Walsh stated in an interview with the MinnPost. She told the paper that lawsuits are a way to get around what she sees as legislative roadblocks.
"Litigation is a way to make change when things have been blocked on the legislative level," Walsh stated. "Some of that might be ensuring that laws that are on the books – in an effort to prevent gun violence – are actually being enforced on the ground."
MORE: Yale law professor claims gun ownership is about suppressing 'inner city Blacks'
The attorney general has been "working with civil tools, including bringing affirmative litigation in an effort to address trafficking and he's looking at what he can do to support neighborhoods that are experiencing disproportionate effects of gun violence in their communities," Walsh said.
She said that both the clinic and the office will benefit from each other.
Ellison's office "is also going to benefit from the pro bono work with the law students who have…the time and the capacity to really dive into these issues and come up with new solutions and new ideas, and then figure out if they are worth bringing into a court."
"I sure wish we would," Ellison said in 2014, when asked by Bill Maher why Democrats do not come out against the Second Amendment.
The former congressman also said he was "Quite proud of [his] "F" rating from the" National Rifle Association in 2018."
MORE: New college divestment campaign targets 'killer' gun industry
IMAGE: 60 Minutes/YouTube
Like The College Fix on Facebook / Follow us on Twitter