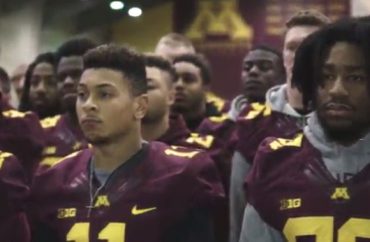 Ten University of Minnesota football players were recently suspended over a sexual assault claim against them — despite the fact that a police investigation ended with no criminal charges.
Now their teammates are coming to their defense by boycotting practice — and possibly even their upcoming Holiday Bowl game slated for Dec. 23 — until their fellow athletes are reinstated.
At a press conference Thursday evening, Gophers wide receiver Drew Wolitarsky said the team wants a meeting with campus leaders to discuss making their program "great again," and also "to address the unjust suspensions."
"Effective immediately, we will boycott all football activities," Wolitarsky said as his teammates — all dressed in their maroon and gold football uniforms — stood behind him, many bearing somber expressions.
"The boycott will remain in effect until due process is followed and the suspensions for all ten players are … lifted," he continued.
At issue is the sexual assault claim against the 10 players, who were suspended Tuesday and face sanctions from the university's office of Equal Opportunity and Affirmative Action, the Star Tribune reports.
"Some of the players were directly accused by a female student in an alleged sexual assault in the early morning hours after the Gophers' Sept. 2 season opener; the involvement of others is unclear. The school discipline comes weeks after a criminal investigation resulted in no arrests or charges. The woman's allegations were documented through police reports and court testimony, and ultimately led to the EOAA investigation," the Tribune reports.
Wolitarsky said the team wants the players reinstated because they were punished "for things they didn't do. … We got no answers to our questions about why these kids were suspended when they were just found [innocent] by the law," Wolitarsky told the Tribune.
Asked if the players were worried about losing their scholarships, Wolitarsky told the Tribune: "We're all in this together. What are they going to do, pull 120 guys off the team? They won't have a team if that's the case."
University of Minnesota President Eric Kaler and Athletic Director Mark Coyle have released a statement in response to the football players' actions:
We understand that a lot of confusion and frustration exists as a result of this week's suspension of 10 Gopher Football players from all team activities. The reality is that not everyone can have all of the facts, and unfortunately the University cannot share more information due to federal laws regarding student privacy. We fully support our Gopher football players and all of our student-athletes. Situations like this are always difficult and the decision was made in consultation with and has the full support of President Eric Kaler. The decision was based on facts and is reflective of the University's values.

We want to continue an open dialogue with our players and will work to do that over the coming days. It's important that we continue to work together as we move through this difficult time.
This action by the football players comes as more parents and male students and athletes have become fed up with rape accusations that never result in criminal prosecution but nevertheless get students suspended or expelled under Title IX guidelines that do not allow for the accused to enjoy due process.
Making matters worse, five years ago the Department of Education issued "guidance" that ordered schools to judge students accused of rape under a low evidence standard or lose their federal funding. With that, campus rape claims are adjudiated by campus tribunals that use low evidance standards that would not hold up in a court of law.
MORE: Father speaks out after college-athlete son cleared of rape: 'How many young men have to have their lives destroyed?'
MORE: Yale basketball captain expelled based on evidence standard that starts at 31% confidence
Like The College Fix on Facebook / Follow us on Twitter