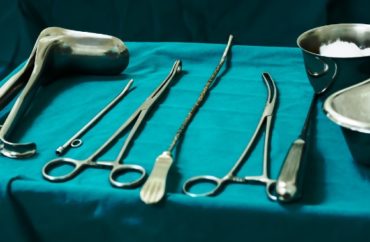 Has been killing babies for 'years'
The University of North Carolina Health system, which is affiliated with the public university's medical school has aborted more than 500 babies in the past three years.
"We performed 533 pregnancy terminations between 1/1/2019 and 10/1/2021," Phil Bridges, the communications director for UNC Health told The College Fix in response to a public records request.
The number of abortions works out to 16 a month and almost two hundred per year. But the total amount of babies killed through abortion at the taxpayer-funded university could be in the thousands.
"UNC Medical Center has been performing pregnancy terminations for many years," Mark Derewicz, another spokesperson, told The College Fix via email.
The abortions include "cases where the life of the mother was endangered if the unborn child were carried to term; the pregnancy was the result of rape or incest [and] issues concerning maternal and fetal health."
Derewicz also said the abortions could be due to "fetal anomalies; emergency procedures due to hemorrhage or infection; and elective procedures, as well as procedures for pregnancies that resulted in miscarriage and fetal demise."
"UNC Medical Center follows applicable state and federal laws," Derewicz said, when asked how far along in pregnancy the clinic aborts babies.
He said student fees and taxpayer dollars do not subsidize the abortions. The Fix asked for clarification on November 11 if the healthcare organization accepts state or federal aid as well as Medicaid patients.
"No Student Fees [n]o State Taxpayer dollars (UNC Health does not receive State appropriations) [n]o Federal Taxpayer dollars," Derewicz said.
Pro-life North Carolinian said the campus is 'hostile' to life
One North Carolina resident and pro-life activist said that UNC is "hostile" to the pro-life movement.
"The abortion lobby preys on college women, so it's not necessarily a huge surprise that UNC is doing that… it's a hostile campus toward the life movement," Brooke Larkin told The College Fix during a phone interview on November 11. She is a regional manager, based out of North Carolina, for Students for Life of America.
"I don't think that the vast majority of North Carolina residents would be happy with the abortion lobby directly targeting their children at public universities," Larkin said.
She identified two problems North Carolina residents might have. "A. not having our taxpayer dollars going to that and b. not having them directly target our kids either," Larkin said.
She said that the pro-abortion environment is one reason why her employer's "Standing with You" initiative is on many campuses. The initiative connects pregnant and parenting students to resources such as social services, diaper and financial assistance.
Last week, Larkin was on campus at UNC Chapel Hill and she said many of the students were not aware of the resources available to pregnant and parenting students or their rights as such.
"Students look toward their university [for support and] if they are finding themselves in an unplanned pregnancy," they would not interpret their school as having "resources for [them]," Larkin said. The university's support for abortion encourages a "culture of death" instead of a "culture of life," she said.
Family Planning Program has 'reproductive specialists' to abort babies
The Family Planning Program is hosted by UNC's OB/GYN department.
"Our physicians are reproductive specialists who offer expert, confidential, compassionate and personalized care in a supportive and comfortable environment," the department says.
"Provides reliable, confidential, and comprehensive health care for women seeking abortion services, contraceptive services and miscarriage care," the clinic says. It's a word-for-word copy of what the Ryan Center, another on-campus abortion facility at a different university has on its website.
"The Ryan Center provides reliable, confidential, and comprehensive health care for women seeking abortion services, contraceptive services and miscarriage care," the University of Chicago abortion facility's website says.
It previously released a guide instructing people on how to get abortions.
MORE: Check out the cancel culture database
IMAGE: StockKK/Shutterstock.com
Like The College Fix on Facebook / Follow us on Twitter