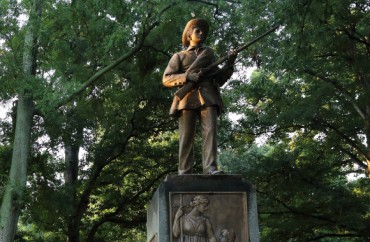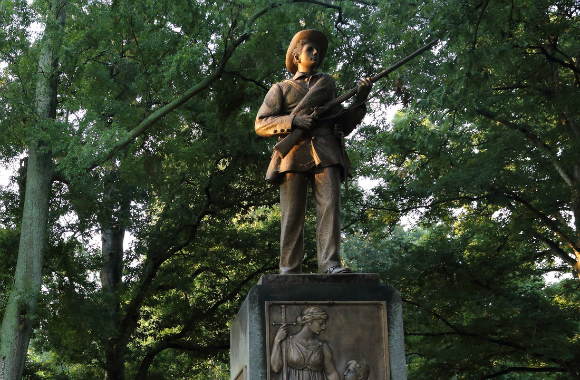 UPDATED
'We will not allow anarchy to reign on our campuses'
A toppled monument to the Confederate soldiers who lost their lives in the Civil War will be reinstalled on the campus of the University of North Carolina at Chapel Hill, according to a member of the UNC Board of Governors.
The declaration comes several days after a shrieking mob tore it down from its pedestal and vandalized it.
Board of Governors member Thom Goolsby said that the monument will be reinstated as required by state law, according to the news station WAVY.
"Criminals who destroyed state property at UNC and police who did nothing will be held accountable," Goolsby said, adding that the university "will not allow anarchy to reign on our campuses."
The statue is currently "in a safe and secure location," according to a campus spokesman. The monument will go back up within three months, Goolsby said.
But UNC-Chapel Hill Chancellor Carol Folt is mum about the statue's fate, according to the Daily Tar Heel student newspaper, which reports that at a Thursday news conference "Folt would not answer questions about the monument's current location or plans for whether or not they bring it back to campus."
The criminal toppling of the statue is currently under investigation by university authorities.
The Confederate soldier statue, "Silent Sam," has long been a target of activists on campus. Last week a mob that included both students and professors converged on the statue and tore it down, shrieking and screaming while doing so. Following the statue's toppling, the mob moved in on it, kicking it and stomping on it before covering it with handfuls of dirt.
Reactions to the illegal destruction were varied. The university vowed to prosecute the vandals who did the toppling, while the student newspaper at nearby North Caroline State University came out on the side of the criminals who toppled the statue, applauding the mob for taking "matters into their own hands with the destruction of Silent Sam."
CORRECTION: This post originally identified the university as having made the decision to re-install the monument. This article has been amended to reflect that a member of the UNC Board of Governors declared that the statue would be re-installed, but that Chancellor Folt has yet to confirm the monument's fate.
MORE: Student newspaper gives thumbs-up to criminal vandalism
IMAGE: Don McCullough / Flickr
Like The College Fix on Facebook / Follow us on Twitter