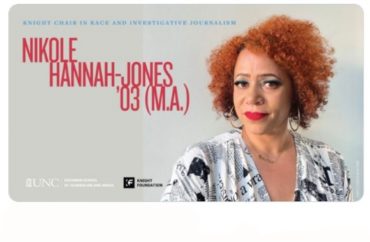 The University of North Carolina at Chapel Hill is facing increasing calls to grant tenure to its newest and perhaps most controversial faculty member, Nikole Hannah-Jones, including rowdy student protests and a threat of legal action.
Hannah-Jones, scheduled to join UNC's faculty in July, is well-known as the architect of the highly controversial New York Times' 1619 Project, for which she won a Pulitzer Prize.
While she is slated to join the UNC faculty as the Knight Chair in Race and Investigative Journalism, UNC trustees decided to hold off on granting her tenure, and instead approved a five-year contract, until questions for clarification about her background could be answered.
The 1619 Project was roundly criticized by many scholars and the New York Times had to issue a correction over it because it was not historically accurate.
But some have traced her tenure rejection to pressure from conservative groups, including the James G. Martin Center for Academic Renewal, who labeled Hannah-Jones' hiring a "degradation of journalistic standards."
Additionally, the public benefit organization Carolina Partnership for Reform lambasted UNC's decision to hire Hannah-Jones as throwing "gas on the fire" of racial tensions across the country.
However the narrative that conservative groups successfully blocked Hannah-Jones' tenure appears inaccurate.
Just The News reports that UNC trustees had concerns over her lack of a traditional scholarly background well before the official announcement over her hiring had been made, and that the board had postponed the tenure review for Hannah-Jones in January, three months before UNC announced the hire.
Despite this, some have pounced on the decision as proof that there is a lack of academic freedom at UNC. For example, its student body President Lamar Richards urged the UNC Board of Trustees to vote for Hannah-Jones' tenure, saying "We have a duty to this university to uphold the values we all hold so dear."
In addition to these statements, a student and community protest demanded tenure for Hannah-Jones. Demonstrators lined up outside a meeting of the Board of Trustees, holding signs with messages like "Support Genius Not Ignorance" and "#ProtectBlackFaculty." During the meeting, protesters chanted "shame on you" and "we will not be moved," the Daily Tar Heel reports.
"We cannot stand by as our University routinely diminishes and undercuts marginalized and BIPOC voices in academia in an effort to bend toward partisan pressures rooted in a fear of America's historical truths," UNC student leaders and advocates wrote in an open letter to the board.
And Knight Chair Alberto Ibarguen, member of the Knight Foundation sponsoring the position, noted that "When UNC Hussman informed us that Nikole Hannah-Jones would hold the chair, we were – and continue to be – enthusiastic supporters." Ibarguen went on to describe Hannah-Jones as "eminently qualified for the appointment."
Susan King, dean of UNC Hussman, characterizes the publicity around the hiring as largely pro-Hannah-Jones.
In an email to The College Fix, King said that the "outpouring of support for our school, its values and our decision to bring our alumna Nikole Hannah-Jones onto our faculty has been overwhelming."
"We appreciate all the schools around the country and around the world who have rallied around us, and we are grateful for the backing we've received from so many alumni, organizations and professional journalists around the world."
Hannah-Jones has not responded to The College Fix's requests for comment.
But she did express appreciation for the support she received in a recent tweet: "I have been overwhelmed by all the support you all have shown me. It has truly fortified my spirit and my resolve. You all know that I will [sic] OK. But this fight is bigger than me, and I will try my best not to let you down."
I have been overwhelmed by all the support you all have shown me. It has truly fortified my spirit and my resolve. You all know that I will OK. But this fight is bigger than me, and I will try my best not to let you down.

— Ida Bae Wells (@nhannahjones) May 20, 2021
In the wake of UNC's decision to delay tenure, the Daily Tar Heel has confirmed that she is contemplating legal action against the university.
Hannah-Jones is currently slated to serve a five-year term with the university, after which tenure will be reconsidered.
MORE: UNC trustees reject granting tenure to newly hired '1619 Project' founder
IMAGE: Twitter screenshot
Like The College Fix on Facebook / Follow us on Twitter