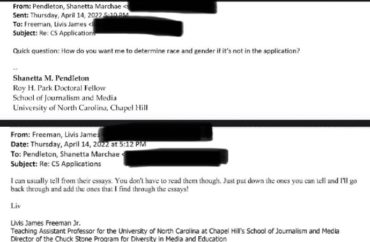 'As universities increasingly introduce subjective evaluation criteria to deal with the blowback against affirmative action, we should remember that these metrics invite every kind of prejudice imaginable'
The University of North Carolina uses essays to discriminate based on race, according to the analysis of a higher education scholar who obtained administrator emails.
"UNC's Hussman School of Journalism and Media hosts the annual Chuck Stone Program for Diversity in Education & Media, which offers 12 high schoolers the opportunity to receive hands-on journalism experience," Neetu Arnold wrote in an article for the Daily Caller. "Program alumni who end up at the journalism school receive special services such as mentors and career preparation support."
Arnold is a research fellow with the National Association of Scholars.
While the program is ostensibly open to all, "school officials actively consider race behind closed doors."
"In a 2022 email obtained via a Freedom of Information Act request, a graduate student managing the applications for the UNC program asked her supervisor how she could 'determine race and gender' of applicants who did not indicate such identities," Arnold reported.
🧵Are universities using application essays to racial discriminate?

Emails I obtained from UNC demonstrate the kinds of problems that could occur as higher ed moves toward subjective criteria like essays pic.twitter.com/IzyuHqCRIR

— Neetu Arnold (@neetu_arnold) June 20, 2023
Program director Livis Freeman said she could "usually tell from their essays." Freeman was responding to an email from doctoral fellow Shanetta Pendleton who had asked how to "determine the race and gender if it's not in the application."
Arnold wrote:
Obviously, UNC officials are using essays to determine a student's race, but some may wonder if this information could be collected for statistical purposes. It is important to note that these emails occurred before, not after, the admissions decisions were made for the program.

This means that this information was certainly used in the decision-making process.
She said that the race of the accepted students has continued to favor racial minorities over white applicants.
Looking ahead to a potential Supreme Court ruling that could limit affirmative action, Arnold wrote that "[o]utreach initiatives like UNC's media diversity program are part of a broader trend to expand the number of minorities universities can choose from during the admissions process to meet diversity goals. UNC increased the overall percentage of minority students in its journalism class from 22% to 32% in less than a decade."
"As universities increasingly introduce subjective evaluation criteria to deal with the blowback against affirmative action, we should remember that these metrics invite every kind of prejudice imaginable," Arnold wrote. "Nobody should have to wonder if they were excluded from an opportunity because of their skin color."
MORE: 83% of colleges now go SAT/ACT optional
IMAGE: Neetu Arnold/Daily Caller
Like The College Fix on Facebook / Follow us on Twitter