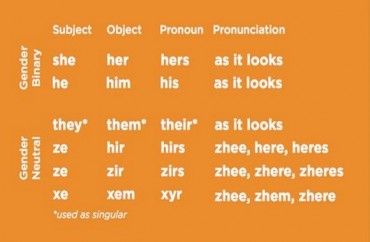 In an effort to make the University of Tennessee Knoxville more "welcoming and inclusive for all," its Office for Diversity and Inclusion is asking the campus community to use "gender-neutral pronouns" such as "ze, xe, xem, xyr, zirs and hirs," according to its website.
"We should not assume someone's gender by their appearance, nor by what is listed on a roster or in student information systems," Donna Braquet, director of the Pride Center, stated on the university's website Wednesday.
Braquet included a chart (shown above) to explain various gender-neutral pronouns, acknowledging "these may sound a little funny at first, but only because they are new. The she and he pronouns would sound strange too if we had been taught ze when growing up."
Braquet suggested that in the first weeks of classes, "instead of calling roll, ask everyone to provide their name and pronouns."
"The more we make sharing of pronouns a universal practice, the more inclusive we will be as a campus," Braquet states. "When our organizational culture shifts to where asking for chosen names and pronouns is the standard practice, it alleviates a heavy burden for persons already marginalized by their gender expression or identity."
University spokesperson Karen Ann Simsen, in a statement to a local ABC News affiliate, stressed that using the gender-neutral pronouns is voluntary.
"The information provided in the newsletter was offered as a resource for our campus community on inclusive practices," she said
But it was too over-the-top for Republican State Sen. Mae Beavers, who told Todd Starnes of Fox News the suggestion is "the most ridiculous thing I've ever heard. If you must interview a student before you greet the student, that's not acceptance – that's just absurd. … It's getting so crazy in this country."
RELATED: University bans use of 'Mr.' and 'Ms.' in all correspondence
Like The College Fix on Facebook / Follow us on Twitter
IMAGE: University of Tennessee screenshot