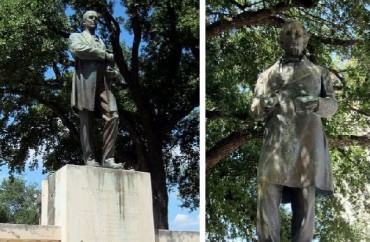 A statue of Confederacy President Jefferson Davis at the University of Texas-Austin that has been decried by some students as a "racist symbol of slavery" and not in line with the school's "core values" will be moved from a bustling area of the quad called the Main Mall to a history center located in an older building on the outskirts of campus.
What's more, a Woodrow Wilson statue nearby "will be relocated to an exterior location on campus that has not yet been determined in order to maintain symmetry in the Main Mall space," campus officials announced Thursday.
Statues of James Stephen Hogg, Albert Sidney Johnston, John H. Reagan and Robert E. Lee will remain on the Main Mall, campus officials added.
The decision was made Thursday by UT President Gregory Fenves after a student government resolution earlier in the spring called for the Jefferson Davis statue's removal from campus, and more recently a task force recommended its relocation or the addition of an explanatory plaque on it.
The statue – situated in a prominent place on campus – has reportedly been the target of controversy and consternation in recent years. A similar effort to remove the statue in 2010 stalled. This year it was the target of vandals no less than three times, the Daily Texan reports, and concern over that statue flared anew after a racially motivated shooting death of nine people in a historically black church in South Carolina over the summer.
Davis served as president of the Confederate States during the Civil War from 1862 until 1865 and was later given a presidential pardon.
"While every historical figure leaves a mixed legacy, I believe Jefferson Davis is in a separate category, and that it is not in the university's best interest to continue commemorating him on our Main Mall," Fenves said in an email to the university community, the Daily Texan campus newspaper reports. "Davis had few ties to Texas; he played a unique role in the history of the American South that is best explained and understood through an educational exhibit."
Fenves added the university "will consider placing a plaque on the Main Mall to provide historical context for the remaining statues and for an inscription west of the Littlefield Fountain that pays tribute to the Confederacy and Southern patriotism."
The statue of Davis will be relocated to the Dolph Briscoe Center for American History, "where it will become part of a new educational exhibit," according to campus officials.
In its announcement of the decision, campus officials touted their efforts to promote tolerance and "diversity" on campus.
"UT Austin has worked in recent decades to overcome its history as a segregated university and has become a national leader in issues related to diversity and inclusion," they stated. "Adding the statue to the Briscoe Center's collections will continue those efforts."
"During the past five years, UT Austin has created the Department of African and African Diaspora Studies and the Department of Mexican American and Latina/o Studies. UT Austin is also currently defending its use of race and ethnicity as one factor in its admissions process in a case before the United States Supreme Court."
Like The College Fix on Facebook / Follow us on Twitter