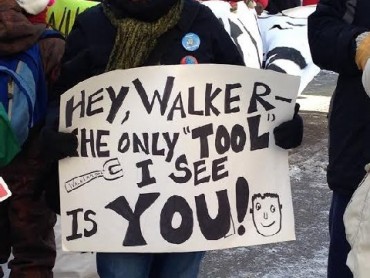 MADISON, Wis. – Several hundred students, professors and community activists converged at the University of Wisconsin-Madison on Saturday to protest Gov. Scott Walker's proposed budget cuts, a demonstration during which participants cheered for the end of democracy and suggested the budget plan would decimate the campus' quality and reputation.
Lane Hall, a professor at the University of Wisconsin-Milwaukee, took the microphone and told the restless, angry crowd that democracy cannot work as it currently stands. Lane went on to say there are other systems that America should use, even if history has an extremely negative view of them, prompting rowdy cheers from most in the crowd.
Walker recently announced his 2015-2017 budget proposal, which included approximately $300 million in budget cuts for the University of Wisconsin system over the next two years. These cuts were part of a package that included greatly increased autonomy for the system. But speakers said that they are not willing to trade budget cuts for autonomy.
Lane demanded that instead of pay cuts, the faculty members, staff and teaching assistants should be given raises, and paid a "living wage." At the conclusion of his speech he said that if these demands were not met that they would move onto other forms of protest, that they would "shut it down."
The crowd erupted again, chanting "shut it down, shut it down."
Despite subzero temperatures and a windchill of -17 degrees, protesters remained mostly energetic. Those who showed up did not appear deterred by the freezing temperatures, holding signs stating "Hey Walker, the only tool I see is you" and "the most violent element of society is an uneducated legislature."
Several in the crowd also poked fun at the fact Walker never graduated from college. Signs stating "too cool for school" dotted the protest. Other demonstrators in the crowd called out that he hates professors, that he has a personal vendetta against higher education, and that he is too dumb to understand how the education system works.
Walker had been a student at Marquette University in Milwaukee, but dropped out a year before graduation.
During speeches, UW-Madison student activist Deshawn McKinney also addressed the crowd. McKinney said Gov. Walker's proposal would take away power from the students and not let them have a voice at the table. McKinney also expressed worry that tuition hikes will hurt out-of-state students and would reduce the number of students of color at the school. McKinney and several of his peers there represented the campus' #BlackLivesMatter movement, holding several signs with their slogan.
Jeremy Beloungy, a UW-Madison employee who said he was there representing "blue-collar" workers in the system, told the crowd that the proposed budget would "stifle freedom and squander prosperity." He also claimed job security, due process, and just cause would be eliminated and replaced by cronyism and favoritism.
There seemed to also be a lot of misinformation spread throughout the crowd. Early in the protests people were chanting about how Gov. Walker had taken money from the UW system and given it to the Milwaukee Bucks to build a new stadium. This claim is not true.
Walker proposed giving the Milwaukee Bucks money through bonds that would then be paid back to the state. The two issues are totally unrelated even though the majority of the crowd seemed to think that they were directly tied together.
Portion of a protest speech:
College Fix reporter David Hookstead is a student at the University of Wisconsin-Madison. 
Like The College Fix on Facebook / Follow us on Twitter
IMAGES: David Hookstead – For The College Fix