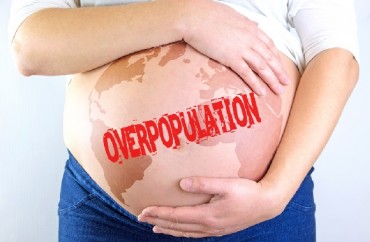 Campaign links human population growth with wildlife extinction
Humans need to "stop hogging the planet."
That according to the Center for Biological Diversity, whose population and sustainability program official Leigh Moyer adds her group has invented a creative way to remind people of that: "Endangered Species Condoms."
Slogans touted on the nonprofit's condom wrappers include: "Before it gets any hotter….remember the Sea Otter," "Wrap with care…save the polar bear," and "Can't refrain? Remember the whooping crane."
The pontificating prophylactics have been distributed "on over 750 college and university campuses," Moyer stated in an email to The College Fix. "This year alone, over 50,000 condoms were distributed by students."
The center started the program in 2009 because "we realized that even though we at the Center for Biological Diversity are doing great work protecting endangered species and preserving wild spaces, we will always be playing catch up until we addressed the main driver of climate change, desertification, deforestation, ocean acidification, pollution, habitat loss and the sixth mass extinction: an unsustainable human population," Moyer said in her email.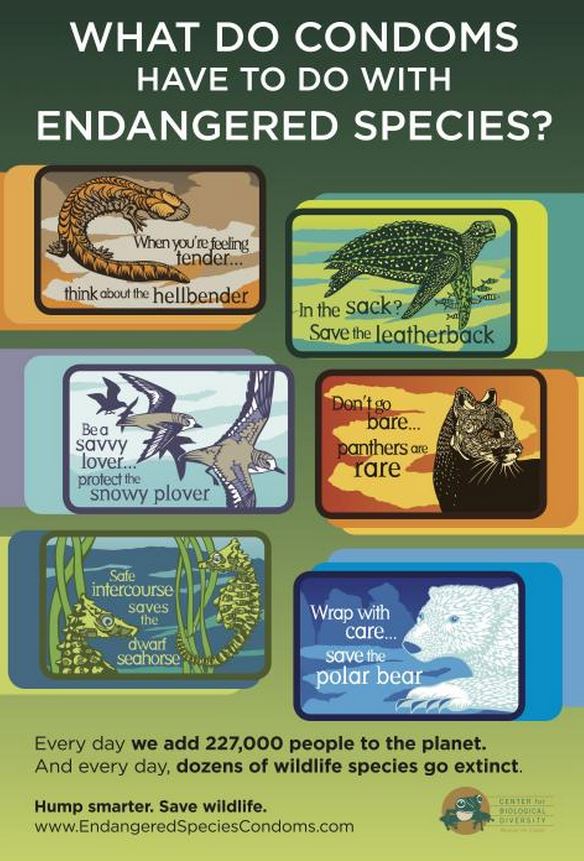 "We're not anti-human, but we do need to address the fact that our population is growing at an alarming rate," she added. "There are currently 7.3 billion people on the earth (compared to 6.6 billion just ten years ago) and we are adding 227,000 people every day," Moyer stated.
"What we want to stress is that limiting the number of children you have and using contraceptives to plan your family is not only beneficial for couples, but for the environment."
The condoms "are our way of starting a hard and often taboo conversation, one that very few environmental groups are having," Moyer told The Fix, adding the condoms are really just conversation starters on population control.
"The real message is that wildlife is disappearing—going extinct—at 1000 times the normal background rate and scientist agree that the sixth mass extinction, the one we are currently in, is caused by humans and human activities," she said in her email.
She also rejected any argument that the world is not overpopulated, saying that these arguments are "bluntly wrong."
One of the schools that distributed endangered species condoms recently was the University of Colorado at Boulder.
Sarah Dawn Haynes, outreach and engagement coordinator for the university's environmental center, told The College Fix in an email that CU Boulder participated because "it's a fun way to introduce students to the topic of population with an environmental lens."
"Growing our population has had and is impacting other species and resources that we share locally and internationally," she said. "There is nothing easy talking about women's bodies, rights and beliefs of childbearing, environmental justice, etc, and this avenue is much less controversial and sticky, but with the same deliverable. Think about how much land, water, minerals, we use and what it takes to share locally and globally so everyone has what they need to thrive."
RELATED: Science professor: Kill sperm, save the planet
Haynes said that they received about 40 condoms for Earth Day on April 22 and they were all taken. She also said they will likely do it again next year on Earth Day.
"Folks like us, who use disposable materials everyday, have gadgets that take mining, refining, shipping, and poor disposal practices, fly regularly, and live in 1k+ sq feet, need to better understand what that means," she added in her email to The Fix. "Note, I am not saying I want to advocate that folks give up iPhones, flying, take-out, disposable diapers, etc, but college educated folks should know what it takes to have all this, that there is room for behavior changes, but even more for creative problem solving, for social entrepreneurship, for green chemistry, recycling, packaging design revolution, for sharing resources (books, tools, cars, homes!), and for understanding what is sufficient to experience abundance."
Like The College Fix on Facebook / Follow us on Twitter
IMAGE: Main, Shutterstock; Inside, CU Boulder website screenshot