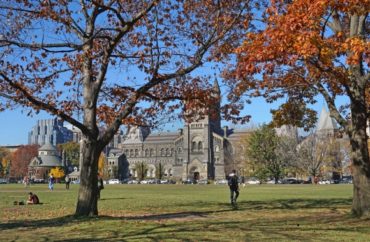 One in six high school seniors who expected to attend a four-year college full-time before the coronavirus pandemic overtook the nation now say they will choose a different path, according to the results of a new survey.
It's one of many troubling indicators higher education administrators face as they try to deal with the uncertainty of how their college campuses will look come fall. But one thing is for sure: college admissions faces a roller coaster ride.
One of the biggest unknowns facing colleges and universities is how many international students will apply and attend. Typically international students are cash cows for universities as their tuitions are often triple that of U.S. students.
"This is the big unknown. What we don't know is when the visa process will resume for students who need a visa to study in the U.S. We will be watching this situation very closely; we've seen just how quickly so many things can change in response to the coronavirus—it's hard to predict what will or won't be possible even a month from now," said Christoph Guttentag, dean of undergraduate admissions at Duke University, in an email to The College Fix.
Jon Westover, director of admissions at North Carolina State University, offered similar sentiments, saying he already projects fewer international students enrolling at NC State in the fall semester.
"The closing of embassies across the world and unknown delays in Visa processing will likely prevent international students from being able to attend in the fall. We plan to allow international students the option to defer their enrollment to the spring or fall 2021 semesters if they have delays in getting their Visa," he said.
According to The Wall Street Journal, college admissions offices across the United States are scrambling to fill their ranks with new students come fall by admitting higher numbers of students during the admissions process underway now. That means college admissions has gotten "easier," the Journal reports.
"The pandemic has scrambled the admissions process. Colleges can't host admitted students on campus to lock in deposits, muddying enrollment projections. They can't predict how many foreign students will be able to travel to the U.S. by the time classes start. And they are having trouble forecasting what financial aid students will need given the recent market rout and waves of layoffs," the Journal reports.
Guttentag is remaining cautiously optimistic regarding admissions data.
"If there's a change," he said, "I don't expect it to be a dramatic one."
Complicating matters is the economic downturn.
During the so-called Great Recession of 2008 and beyond, colleges were hit with losses of revenue due to less government funding and donations. They made up for it by increasing tuition, according to a report in The Chronicle of Higher Education. 
"Most universities continued to raise tuition every year after the recession, averaging 4 percent annually for the next decade; public colleges increased tuition more than 37 percent from 2009 to 2019," the Chronicle reported. "Increasing tuition will no longer be an option for higher education in dealing with the current economic meltdown — primarily because families cannot afford to handle the burden."
A recent survey found students are looking at other options besides 4-year colleges.
The survey, conducted by the higher education consulting firm Art & Science Group, found that one in six high-school seniors who expected to attend a four-year college full-time before the pandemic now say they will choose a different path.
The national survey of nearly 500 high school seniors taken in mid-March also found that two-thirds of graduating seniors worry they will have to change their first choice school, taking into account issues such as cost and how far away from home it is.
"If this phenomenon continues — or worsens, which it could well do — it will have far reaching consequences on college enrollment this fall and potentially have a substantial impact on higher education for years to come," accordion to the consultants in their report on the survey results.
MORE: Coronavirus quarantine will bust homeschooling myths, education expert claims
IMAGE: Spiro Inc. / Shutterstock
Like The College Fix on Facebook / Follow us on Twitter