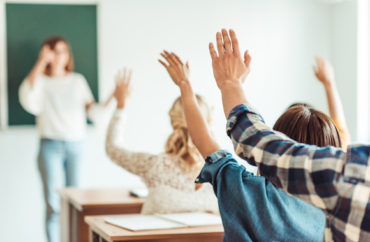 'Adulting' courses a growing trend at some schools
Several universities offer workshops to help students learn basic life skills and prepare them for the challenges of adulthood. Themes for these courses include budgeting, mental health, and even buying groceries.
The University of North Carolina at Chapel Hill offers a series of workshops titled "Adulting 101." Various programs in this series include topics like "Self-Care for the Mind," "Level Up Your LinkedIn" and "Building and Maintaining Credit."
Last semester the school offered a workshop called "Ballin' on a Budget." In that workshop, students "learned how to create a budget, how to track spending with apps and various ways to spend and save money more efficiently," the school's media relations department told The College Fix.
Judy Panitch, a spokeswoman for the school's library, said the "Ballin' on a Budget" workshop was presented by the Office of the Dean of Students. Panitch told The Fix that students have expressed more interest in financial wellness than any other topic. Later in the semester the school will offer a workshop about "establishing and maintaining credit," Panitch said.
Panitch added that eighteen students attended the school's "Self-care for the Mind" workshop on Jan. 24, which focused on "finding and evaluating online mental health information."
Pacific Lutheran University, meanwhile, has an extensive "Adulting 101" series consisting of 10 workshops. Topics include "Living Vocations and Values Beyond PLU," "Transitioning into a New Job," "Community Engagement," and a "Finance and Budgeting" course.
Though the budgeting course at Pacific Lutheran University covered numerous topics, it did not touch on the matter of taxes. A recent survey found that three-quarters of Millennials experience stress over filing taxes.
Kelly Lauderdale, the assistant director of the Office of Financial Services at the university, said that program constraints prevented her from bringing up the matter of taxes.
"I think income tax information is extremely important and relevant to students. Unfortunately for that presentation, I had a limited amount of time and was asked to prepare a presentation about the specific topics covered," Lauderdale said.
Other courses at Pacific Lutheran include "Food, Groceries and Nutrition" and "Time Management."
The University of Denver also has an "Adulting 101" series. According to the school's website, the workshops are designed to "help you thrive in your relationships, tackle problem solving and decision making, manage emotions, provide guidance on healthy living, and help you find life purpose, meaning, and identity."
"Ever have that moment when you're looking for an adult, but then you realize you're an adult? So you look around for an older adult, an adultier adult, someone better at adulting than you? The thing is…You can be that adult!" the program's webpage states.
The classes are "a series of periodic workshops put on by a variety of departments across campus," a representative of the university's media relations department told The College Fix. Topics include "financial wellness and career and professional development advice."
Among the offerings are a class called "College Student Life Hacks." That workshop promises to teach students "skills and tech tips for getting things done more effectively and efficiently" as well as tips for "navigating campus and handling stress throughout college."
The website touts that the courses teach students "life skills you're not learning in class."
MORE: Scholars forced to teach students the value of failure because parents didn't
IMAGE: LightField Studio / Shutterstock.com
Like The College Fix on Facebook / Follow us on Twitter